For years, brands and retailers have leaned into pop-ups as a way to uniquely connect with niche consumers and ultimately, create buzz. Now, mixed-use developers are taking it to the next level with the "pop-up village" concept. These environments feature several spaces, instead of a singular experience, and create a mini mixed-use destination, if you will.
This month NELSON teammates explored two of these villages—The Current located at the Boston Seaport and The Box Shops in the West Loop of Chicago—clearly designed to connect with up-and-coming urban markets.

The Current
Located in the Seaport District of downtown Boston, The Current, by WS Development is a retail village that is home to "an ever-evolving lineup of brands and businesses that spin the concept of a traditional storefront into something truly special." As guest tenant(s) rotate, each village expression is strategically woven together with a theme. This POV-driven location gives consumers the chance to discover something new throughout the course of the year, while also acting as an innovative retail incubator for brands. Previously, The Current curated a collection of female business founders and distinctly branded the experience as She-Village.
At the moment, The Current is hosting the infamous best-in-beauty brand, Glossier. While we've watched Glossier make waves in the retail world, this location is differentiated from its NYC flagship and other pop-ups. Making its debut in Boston, the brand did a full takeover of the Current's nine freestanding spaces. Each individual space creates a focused display for each of Glossier's product categories (makeup, skincare, body care and fragrance) or brings to life immersive, "selfie-worthy" installations that celebrate key brand elements. Shoppers order product as they shop each category's space, and then head to a dedicated pick-up location that serves the entire destination. The execution is undeniably Glossier as each exterior and employee is decked out in the brand's iconic Millennial pink.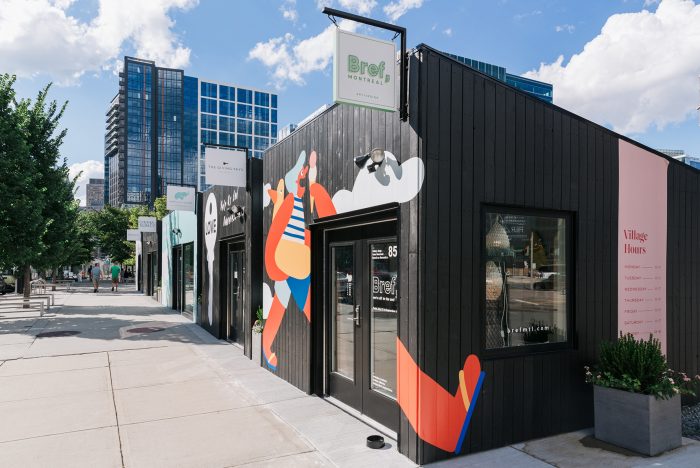 The Box Shops by Related
At The Box Shops in West Loop Chicago, shoppers can enjoy a "rotating roster of local retailers" in a temporary retail market made of repurposed shipping containers. Powered by Related, the developer behind Hudson Yards, and in partnership with Equinox and Boombox, The Box Shops consist of seven spaces, none over 320 square feet in size with vendor leases starting at $1,000/month. This strategic retail solution provides local start-ups with access to an area they otherwise may not have been able to afford, while also bringing retail into parts of the city where it's currently lacking. Related reports that the activation has brought more awareness to the site, where they're building a hotel and apartments nearby, as well as its bigger developments.
The night we stumbled upon the space, you could shop for gifts or jewelry, grab a beer or Israeli street food, and hear a DJ's music trickle into the streets. It featured an outdoor lounge that invited you to stay awhile and "sip, shop or play"—a non-committal way to enjoy a bustling Chicago neighborhood that often requires a reservation.
We'll readily admit that we're a sucker for any kind of new experience, knowing we can always learn something from it—but we predict this pop-up village concept might be here to stay. It steals the novelty of a traditional pop-up, while also providing a reliable, go-to retail destination. And, we're excited to see mixed-use developers taking the lead to create valuable experiences for tenants and consumers, alike.