Rockets Of Awesome Pop-Up NYC
By: Creative Fuel
From art galleries and farm stands, to secret pop-ups it's almost always guaranteed you'll discover something new while strolling through New York City. One day while walking off lunch before heading back to the office, I came across a new pop-up that couldn't be missed from the sidewalk. With its large windows and bright neon balloon arch standing tall, I had to step in and see what was going on.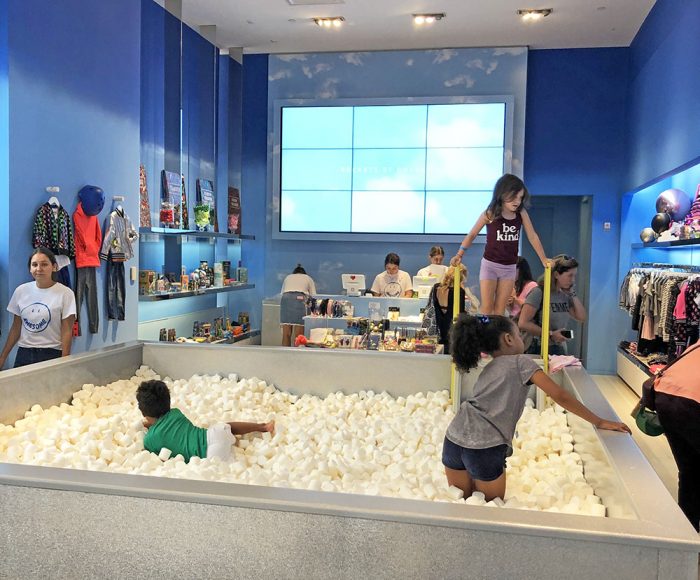 Just in time for the new school year, children's apparel brand Rockets of Awesome opened their first-ever physical pop-up experience in the heart of the Flat Iron District. Stepping inside, I was immediately immersed in a rainbow, fantasy land showcasing the brands neon-colored clothing line chock full of kid-friendly activities and touchpoints.
After taking in the aesthetics of the space, I took a second to notice all the activity going on around me discovering a kid-friendly selfie station and centrally located "marshmallow" pit with dozens of kids having way more fun than me (If I were still pint-sized that pit would be calling my name!). After walking around, I realized that the experience wasn't just for parents like most children's clothing retail is, this one was designed with kids in mind too. While little ones enjoyed the marshmallow pit, DIY patching station, and getting photos with their besties, parents were given some time to shop. Smart call by the brand giving parents a short break, but also making the experience seem fun for its true end-users.
Moving on from one display and activity to the next, I found myself swooning over all the little details the designers managed to squeeze into the experience. Floor to ceiling mirrors were decorated with kid eye-level graphics (no more than 3ft up the mirror) read "you look great" or "flossing zone." At a low sitting bar, kids could pick from buckets of patches to add to their Rocket of Awesome jackets or jeans. It's not a surprise I left wishing they had one these neon pink bomber jackets in my size.
Overall, I give the Rockets of Awesome NYC Pop-Up a thumbs up. It's not only a great example of experiential retail done well, but a pop-up done well. While some pop-ups only feel like a pop-up, this one had several layers of programming, visual merchandising, and activities.