Part II: In The City with NELSON NYC
By: Creative Fuel
New York City is home to the largest population of designers in the country. Over 45,000 creatives work within the city limits each day making it a global hub for inspiration and creativity. NELSON New York is proud to be part of this community, designing some of the city's most innovative environments, from corporate offices to retail flagships. To highlight all the exciting things going on "In The City" and at NELSON Worldwide, we're unwrapping a three-part series that introduces some of our creative leaders and shares their thoughts on New York City's design landscape.
Part I of our three-part In The City with NELSON NYC series introduces you to Joey Schirripa, Tenant Landlord Studio Director at NELSON NYC.

Q: Who are you as a designer? Tell us more.
As a designer, I am practical and balanced. I appreciate the visuals and aesthetics that can be accomplished by the use and manipulation of products and materials, but I am always conscious of cost, function, and longevity. This is not only important to me but the client which is why I always ask What is this going to look like day two? Is this easy to maintain? Is the design too specific to current trends that it will tire quickly?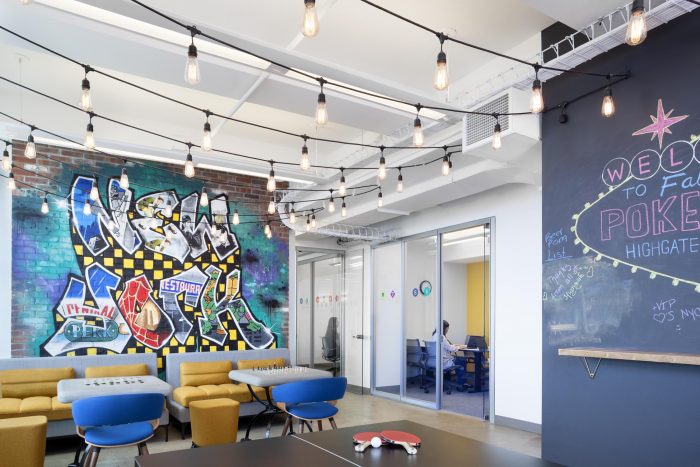 Q: 6 words that describe what it's like to be a designer in NYC. Go!
Challenging
Interactive
Exciting
Forward-thinking
Engaging
Passionate
Q: What are some architecture and interior design trends in NYC you're seeing at the moment?
At the moment, I am seeing the use of materials, lighting, and furniture that are multi-functional and allow plenty of flexibility within a space. We are designing interiors with the ability to be re-purposed so that users can easily adapt to changes with less movement and lower construction costs.
Q: How has the design landscape in NYC changed over time?
Over the years, design has become more open and accepting of the original structures and layouts of spaces. The brick and steel you find behind drywall is now the accent wall of a space. The rough beat up ceiling slab we use to conceal is now "perfect". We are finding that the imperfect nature of these materials is now the finished look clients enjoy.
Q: What is the biggest challenge for design/designers in NYC?
A challenge for New York City designers and architects are is working with structural constraints within a project space. This City has a vast but unique range of architecture passed down from each era. Working around older methods and materials is always a challenge. For example, some buildings have wide column footprints used to fireproof them at the time. Our solution? We strip them down to the exposed steel and paint them. While finding these solutions may be challenging, they are also the things that make being a designer in NYC so special and exciting.
Q: What's it like to work at NELSON NYC?
At NELSON every day is different! Being in the Tenant Landlord studio, the heart of our work is in NYC so we see it all and move very quickly. On an average day we could be in the office designing, working with brokers around the city, or standing on top of a 50-story building for review. All very exciting things that challenge my team and I to be creative and think on our feet.