Part I: In The City with NELSON NYC
By: Creative Fuel
New York City is home to the largest population of designers in the country. Over 45,000 creatives work within the city limits each day making it a global hub for inspiration and creativity. NELSON New York is proud to be part of this community, designing some of the city's most innovative environments, from corporate offices to retail flagships. To highlight all the exciting things going on "In The City" and at NELSON Worldwide, we're unwrapping a three-part series that introduces some of our creative leaders and shares their thoughts on New York City's design landscape.
Part I of our three-part In The City with NELSON NYC series introduces you to Holly Williamson, Design Director and member of our Global Solutions team.

Q: Who are you as a designer? Tell us more.
As I grow as a designer I lean towards classic design that won't look trendy in years to come. I like playing with materiality, texture, neutral colors and lighting to make spaces memorable.  Mentoring young designers is very important to me, they bring fresh ideas and a different perspective. I encourage everyone to bring their design ideas to the table, even odd ball ideas might lead you to the final design solution. See a few of our latest and greatest projects below (some complete and some coming soon)!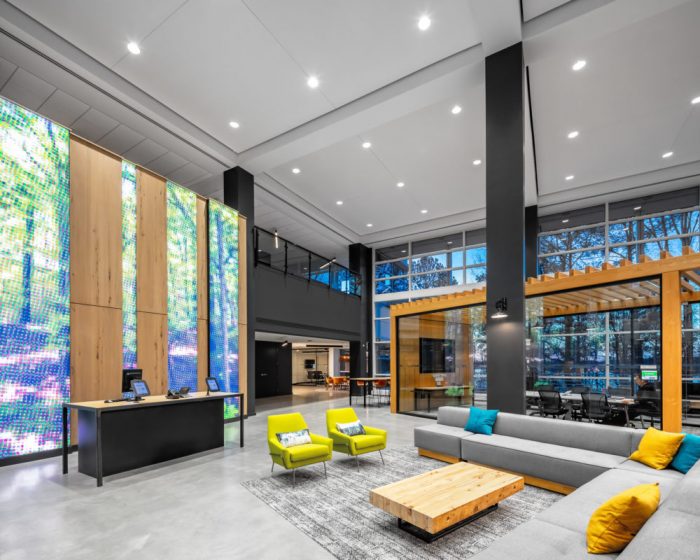 Q: 6 words that describe what it's like to be a designer in NYC. Go!
Fast.
Fun.
Creative.
Energizing.
and Exhausting,
BUT AMAZING!

Q: What are some architecture and interior design trends in NYC you're seeing at the moment?
Clients are embracing the blending of hospitality and retail into corporate interiors which allows us so many great opportunities for creative spaces. More workplace clients are understanding the importance of integrating outdoor spaces to work/dine in. Many Global Solution clients are turning away from one size fits all design and instead focusing on local design concepts to help make the spaces unique to help attract and retain talent and help define the brand. This can be anything from local artwork, locally sourced materials/furniture, to custom Environmental Graphics Branding that showcases the area or even brining in local restaurants to cater in their cafeterias or pop up cafes/food truck days.
Q: How has the design landscape in NYC changed over time?
I came to New York in the early 2000s after spending time in San Francisco during the dot com boom. I felt that New York was not nearly as forward-thinking as San Francisco was then. So much of New York still had the "I need the corner office" mentality. I feel that NYC is pushing boundaries and creating positive change in workplace design. It helps that many tech companies have offices in NY to help push the needle

Q: What are your favorite types of projects to work on?
I enjoy working on large scale corporate projects with multiple amenity spaces. I love to develop the overall concept for a space with many functions. Activating all portions of the building is an exciting challenge and allows for special moments to focus in on. We recently completed a corporate campus in Raleigh/Durham and it had: a full-service cafeteria, tech help desk, barista bar, fitness center, multiple micro-markets, a training center, Executive Briefing Center, outdoor walking paths and numerous: wellness rooms, pantries, coffee bars & outdoor terraces/patios throughout the project.

Q: What's it like to work at NELSON NYC?
Working at NELSON is fun! Every day is a new day for me. As Design Director I'm fortunate to oversee many different clients and each one has its own unique design stamp. The success of the projects really comes from everyone involved on our team. From juniors all the way up to senior staff, we work hard to exceed our client's expectations, and everyone is encouraged to bring their ideas and challenge themselves. I also feel fortunate to be part of a larger organization where my counterparts in other offices are reliable sounding boards and friends. I've had the opportunity to work with designers from around the country exposing me to endless creative ideas and fresh approaches.