The Phluid Project
By: Creative Fuel
The latest Retail Design Institute event in New York was hosted at The Phluid Project in SoHo, a new retail space that claims to be the first gender free apparel store in the world.
The overall space had a cheerful ambiance, with pops of color and fun visuals. The store design is very minimal with high ceilings, white walls and big windows, allowing the merchandise to be the star of the show. Hanging on the wall like art pieces, are The Phluid Project t-shirts, while the rest of the fixtures are white cubes, racks and tables.
The space is not all about the merchandise though, guests are encouraged to stay and relax with a back bar serving coffee and kombucha, a hidden "selfie" nook, and colorful bleachers, allowing plenty of space for guests to hang out and recharge. The store also has an office space in the lower level that can be rented free of charge for events and gatherings.
At the RDI event, founder Rob Smith talked about his inspiration and the desire behind the project – to create a space and atmosphere where everybody can feel free to be who they are. His vision was to create a space where everybody can feel comfortable shopping – remembering the days when boys would feel embarrassed having to walk in the women's section to try a pair of jeans, in order to fit their style.  For him, it was less about the clothes and more about creating a different retail experience for people that don't fit in a typical gender description, or consider themselves gender fluid. He admitted he was surprised by the amount of tourists that stop by, from all over the world, to check out the space – realizing most people are just curious to see how a store with no gender division works.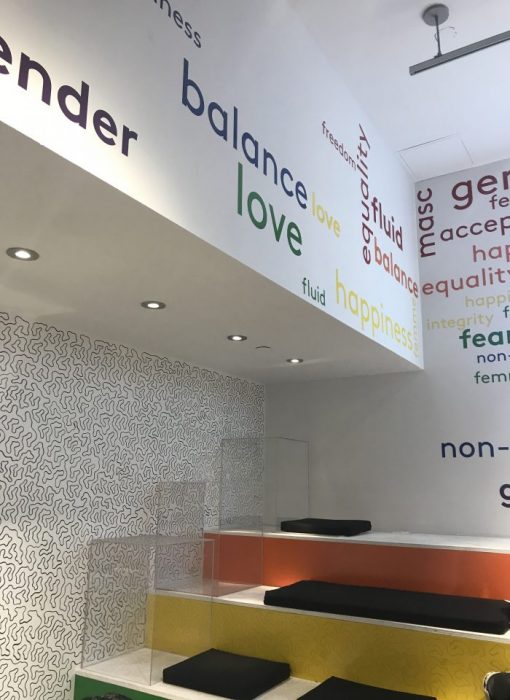 The merchandising itself is organized by style, I recognized a few familiar brands such as Fila and Champion, representing their more casual, summer offerings.  While I didn't spot many dresses and skirts, there were plenty of loose shirts, crop tops, jeans jackets and tons of sneakers. In addition, the store also sells beauty products, sunglasses, accessories and books. The merchandise and brands change every few months, as does the store layout, so all the fixtures are on casters to make it easy to move in order to create different configurations. The mannequins have been designed to have a less masculine body than the typical male ones, Smith wanted to combine men and women's body types into one.
Altogether it was a wonderful event, in a great environment. It's exciting to see a store that opens up a new future for kids that don't identify themselves with a traditional gender and will finally have a place where they can shop freely without having to choose.