Retail Design Institute Honors NELSON with International Design Award for Unbuilt Conceptual Design
By: NELSON Worldwide
We are thrilled to announce that our design for the Bentonville Near Nature Pavilion has received an Innovation Award in the Unbuilt Conceptual Design category at the Retail Design Institute International Design Awards ceremony in New York. We are deeply honored to have this visionary concept acknowledged for its seamless blending of physical and digital experiences that fosters meaningful human connections.
About the Concept
The Format Festival (For Music+Art+Technology) is a massive 3-day multidisciplinary event that combines an eclectic lineup from some of the biggest names in the music industry, featuring an impressive music, art, and technology focus. The Nature Near Pavilion is a nomadic lounge, a temporary elevated playground experience, music venue, chill out space and walkway in a densely forested area. This will be an environment built entirely from scaffolding, industrial prefabs as well as printed and translucent billboard material. Elevating the pavilion 3 feet above an undulating landscape, it is connected to the main venue spaces by Cross Laminated Timber (CLT) platforms, keeping concert goers safe from potential flooding in a celebration of the journey. Branding & graphics are an integral part of the design where layered imagery on the outdoor skin during the day fades to become an indoor moving projection surface at night.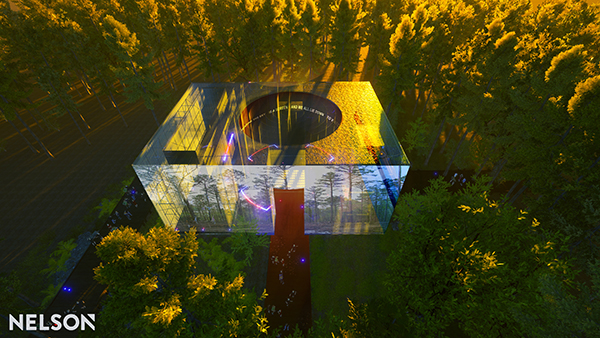 By night, it will host projections extending that topic by a variety of guest artists. The lounge, a physical and virtual homage to the domed grandeur of the Pantheon, will feature an ever-changing roster of guest DJs and sound artists.  It will be a welcoming space that provides a place to hang out during the festival. It will function as a sheltered playground for the senses in a calm and safe series of moments. Within the embedded double height "dance zone", the sky in all its glory will be the hero for this installation. It will be framed and featured in ways that surprise and delight the visitor. Fully demountable with reusable elements, the pavilion is designed to have a minimal, if not zero, environmental impact.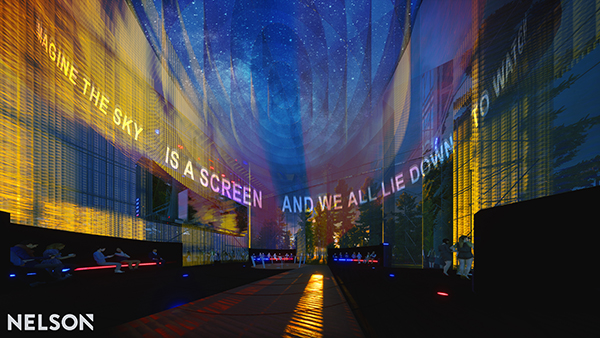 The Circulation path is simple and revolves around movement from the outdoor platforms through the chill out lounge and into the denser dance zone and back again. Lighting is integral to the success of the proposed design. Automated Gobo light fixtures and carefully placed uplighting use techniques developed in theatrical lighting to reveal the pavilion's skin and diminish or hide the scaffolding structure within.