2019 Macy's Flower Show
By: Creative Fuel
Beyond rooftop bars and walks in the park, one event that marks the arrival of spring in NYC is the iconic Macy's Flower Show! For decades, Macy's Herald Square (and other major city flagships) have rung in the new season with a themed flower show that is out of this world, literally—this year's theme was "Journey To Paradisios" and it was inspired by stars, planets, space ships, aliens – and all things outer space.
Each year, Macy's partners with nurseries to secure the best plant life and then a special team made of designers and florists work their magic. The display features more than 5,000 different kinds of plant, tree, and flower species, and has been known to attract over 100,000 visitors.
Walking into the main entrance of the department store, you may get the feeling that you are peering out the window of your very own spaceship. Graphic ceiling and floor coverings were installed to mimic the darkness of space and spheres made of bright colored flowers hang to resemble planets – but, the focal point of the show is Starflower 1. This cleverly named installation features a soaring rocket ship releasing a trail of flames (or in this case: orange, red, yellow flowers).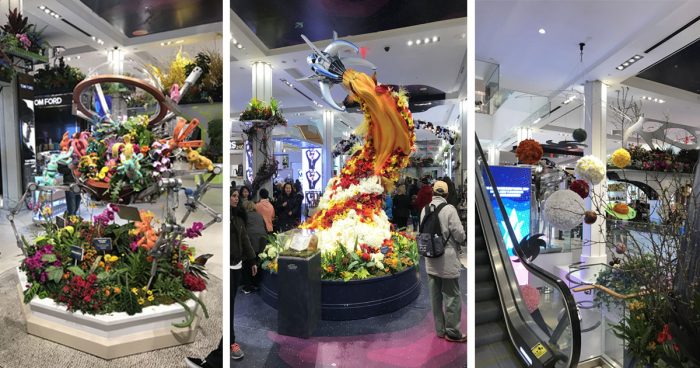 Alongside Starflower 1 are a variety of other dramatic installations including the SpiderCrawler which carries about a dozen colorful and quirky stuffed aliens surrounded by orchids and other exotic plants. From a design perspective, the Flower Show adds a sense of creativity and curiosity to the store space giving visitors a one-of-a-kind experience to enjoy. In addition, the displays act as a creative merchandising opportunity offering a unique place to hang apparel, display cosmetics, or showcase a new spring collection.
If you're flower fanatic and in NYC, Chicago or San Francisco from mid-March to early April make sure to mark your calendars for next year's show!