IRDC 2018 Recap
By: Creative Fuel
Did you miss this year's International Retail Design Conference? You're in luck … our team of FRCH-attendees are here to share highlights, takeaways, and recommendations from this year's conference.
Presented annually by VMSD, the conference includes three days of design dialogue centered around best practices, evolving trends, and fresh strategies for engaging shoppers and maximizing resources. More than just presentations, the conference allows attendees to get up-close and personal with a new city each year that is leading the way in retail innovation – this year's pick? Seattle.
Our team not only presented at the conference (click to view and download our presentation "Tapping Into the Senses to Strike an Emotional Chord") but also heard a lot of food for thought including these
5 key takeaways for retailers:
Don't Forget the Fantasy. In this age of Amazon, it's easy to forget the whimsy – but at the end of the day it's shopping – it's entertainment. Bring back the romance that retail once had, whether it's in a store window or a fitting room, create adrenaline and emotion through design.
Flexible Programming. Consumption of experience has outpaced consumption of goods by a factor of 3. With that in mind, successful environments are those that create communities among their guests. Create adaptable, functional design that will get your guests to say hello sooner.
Connectivity Is King. The smartest person in the room is the one closest to the customer. Leverage your boots on the ground, instead of making all decisions in a corporate silo, to create true brand ambassadors. And don't assume what customers know, want, or experience – instead ask them.
Digital Literacy. No longer about online vs offline, today it's simply about shopping. Retail brands need to focus on creating brand affinity versus brand engagement in order to create stronger brand advocates. Utilizing the 4 C's: Connections, Content, Conversion, and Community to build loyal followers.
Welcome to the Algorithmic Age. Soon everything will be curated for you (if it's not already). A key consideration will be how retail brands can better anticipate their consumer's intentions without them having to tell us.
Retail Tour
Few cities have been a testing ground for as many retailers that have expanded nationally or internationally than Seattle. Home to Nordstrom, Starbucks, REI, and Amazon to name a few. It made a perfect backdrop for this year's IRDC and we made sure to get in our steps while taking in some highlights.
Check out our "must-see" Seattle tour, a curated list of some our favorite experiences in retail, restaurant, hospitality and more. From new brand concepts like Amazon Go, to independent boutiques like Glasswing, a clothing and home-goods shop that contains a shared design office and common gallery space available for rent (and has a great Seattle-focused blog). **Bonus Stop: if you find yourself farther south in Columbia City, also make sure to check out Eileen Fisher Renew (recently highlighted on Creative Fuel).
Below are a few of our favorite hot spots along the way … take a look and enjoy!
Amazon Go
Now with 3 Seattle locations (and 2 in Chicago with another one on the way), the online giant is showing it can be effective in brick-and-mortar as well. Our team visited the store on 7th avenue, and other than having to download the app prior to entering the store, we were impressed by how seamless the experience was. The 1,800-square foot market carried a curated list of items that ranged from grocery staples to more gourmet offerings that you might find at a Trader Joe's. One offering we found particularly convenient was their Amazon Meal Kits – 4 pre-selected meals for two people that could be ready in 30 minutes. With the rise of subscription based meal-kits, its a timely solution that allows consumers the same ease, without the subscription commitment.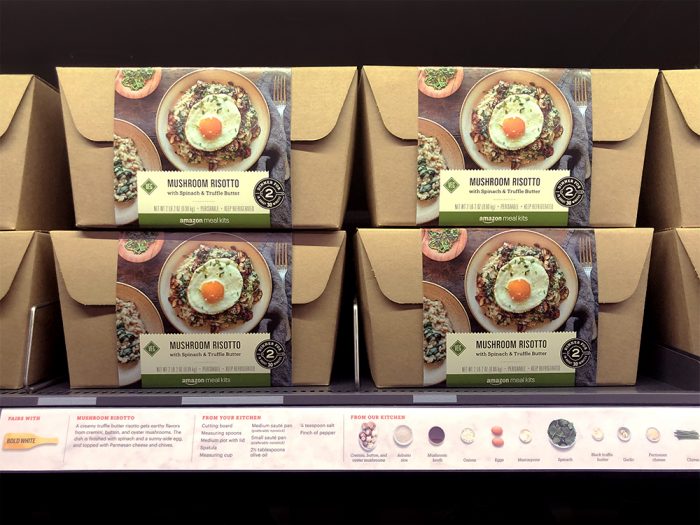 Totokaelo
Described as the "purveyor of beautifully designed and thoughtfully curated fashion and objects" Totokaelo, located in Seattle's hip Capitol Hill neighborhood, is 7,000 sf of curated, high-end collections. The bi-level store features a gleaming white interior complete with skylight and plenty of natural light, making for a bright and inviting entrance.
The overall space is simple in form but but big on impact, allowing the fashion to become the art object in this gallery-like environment. The stark white interior is balanced by wood and other natural materials – leather, macrame and woven rugs are used to warm the space but not take away from the product. Understated details like curved display walls, artistic pendant lights, and exposed beams elevate the store in a very sophisticated manner.
This luxury offering is a nice contrast to the more casual, grunge vibe of the surrounding neighborhood. While the store offers luxury labels like Dries Van Noten and Comme des Garçons, the collection is also very in-tune with the Seattle style and environment, offering lots of functional, utilitarian styles for both men and women.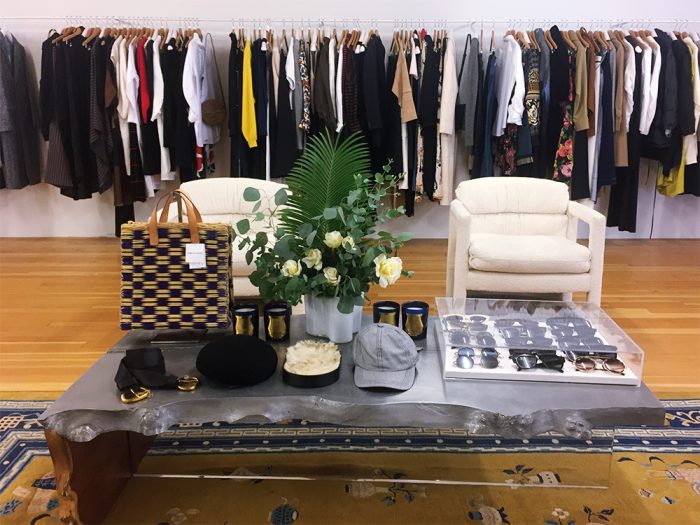 Princi
This summer Starbucks opened it's first standalone Princi bakery at 2118 Westlake Avenue. The high-end Italian bakery concept features fresh pastries, bread, and focaccia pizza, among other treats – in addition to Starbucks coffee and a bar area severing cocktails, beer, and wine. Starbucks recruited Milanese baker Rocco Princi's namesake company in 2016 for its high-end Starbucks Reserve Roasteries (see below) and the brand is now making a push to open Princi bakeries across the country. Our team sampled the goods and were not disappointed. The environment was warm and inviting, including an outdoor fire pit and a clear view into the kitchen to see the bakers at work.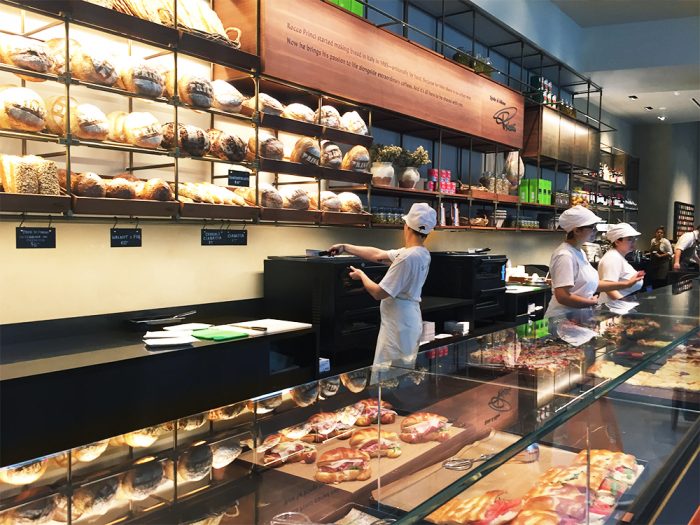 Sitka and Spruce
Our team enjoyed a great dinner with great friends at Sitka and Spruce during the conference. Located in Capitol Hill's Melrose Market, the quirky charm of this restaurant is undeniable. The space is framed by old, oversized auto shop windows with a brick, wood-burning oven in plain sight anchoring the open kitchen. Lucky enough to reserve the coveted communal table, nothing sat between us and the butcher block table of the kitchen. The rustic environment and farmhouse dining room created an intimate space to enjoy shareable bites of authentic Pacific Northwest cuisine.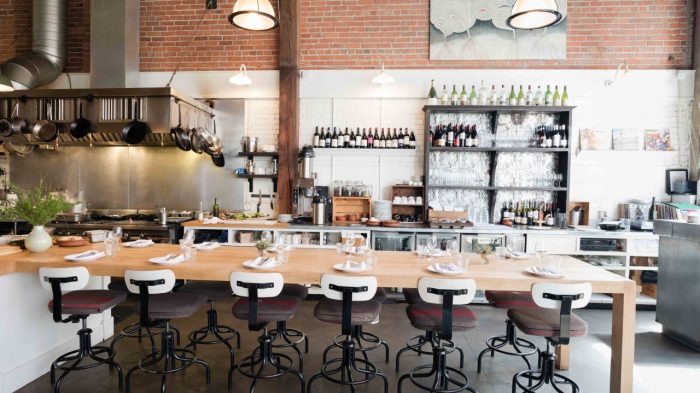 Starbucks Reserve Roastery
No trip to Seattle is complete without stopping at the Starbucks Reserve. This dramatic expression of the coffee giant was launched in 2014 and celebrates the true craft experience, from unroasted beans to the coffee steaming in your cup. Located just nine blocks from the original Starbucks Pike Place store, the experience is not only for coffee-drinkers, but instead boasts a full bakery, deli, and bar – in addition to accessories and Starbucks products.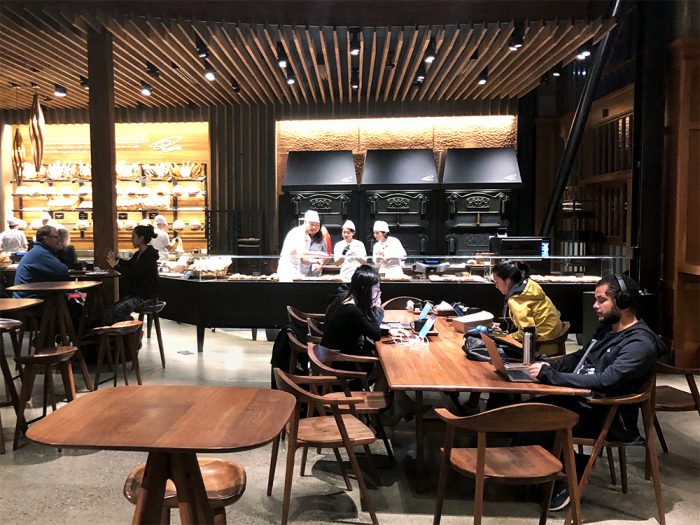 Tuft & Needle
Mattress e-tailer turned brick-and-mortar brand, Tuft & Needle recently opened one of their four physical stores in downtown Seattle. The Amazon darling already gets 25% of sales through the online giant, but knew in order to disrupt the mattress industry, they would need to expand their footprint. The founders created a "Hate List" (the original posted in-stores) of things that wanted to change about the traditional mattress-buying experience and it has been a driving motivator in their guiding mission to "change the mattress industry by taking care of people."