Our desire to connect is a survival instinct
Even before COVID-19, loneliness was considered a public health problem by cognitive and social scientists. While many employees have thrived in the new reality of working from home, many have also struggled with a sense of isolation and loss of connectedness with their co-workers.
Humans are primates, and in the competition for survival, the practice of living in societies where resources, information, and protection are shared has provided humanity a distinct advantage. The modern workplace is also an intimate social group where cooperation and interaction with other group members play a crucial role in our business survival. Our yearning for the camaraderie of the workplace is part of our survival instinct.
Humanity is currently engaged in a purposeful evaluation of what we'll allow back into our lives post-pandemic. That evaluation will impact our expectations of businesses and brands. We can expect to see the previous standards, expectations, and behavioral patterns of workers to evolve rapidly. The shutdown accelerated an already massive shift toward mobility and remote working. Workplaces will need to support smaller onsite and remote team interactions.
Decompressed density means that some of us will be working remotely, and some will work in shifts.
We believe that employer brands will move beyond a focus on recruitment and retention strategies toward a more integrated and holistic influence on the fulfillment of overall brand objectives.
Extraordinary times, require extraordinary resolve
As organizations face uncertainty, the need to reinforce the business's core drivers becomes even more critical. Inspiring loyalty and driving performance are easier when employees care about what you do, understand your values, and are genuinely inspired by your vision and purpose.
The boundaries between being physically in the office and out of the office are collapsing. We envision a "redefined essentialism" in the design of future workplaces, dispensing with practices and tools that no longer serve the future. Reinventing these spaces to become epicenters for organizational priorities, building social networks, and organizational development. Developing fit-for-purpose workplaces will make them the driving force behind collaboration and collective intelligence.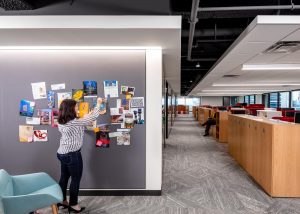 The Trust Ecosystem
When the world seems precarious and uncertain, a resilient organization becomes even more important. Organizations who operate with a shared sense of purpose and trust are more capable of swiftly adapting to change. A Watson Wyatt study shows that high-trust organizations outperform low-trust organizations by 286% in total return to shareholders.
"Trust is not merely a soft, social virtue; rather, trust is a pragmatic, hard edged, economic, and actionable asset that you can create." Stephen M.R. Covey
Deloitte Insights describes the four dimensions of trust as physical, emotional, financial, and digital. Post–COVID-19, business leaders can future proof their business by creating strategies that take the needs of all stakeholders into consideration, across these four dimensions.
Here are the ways the four facets of trust can inspire the future role of winning employer brands and workplaces in the pre-Vaccine COVID-19 era.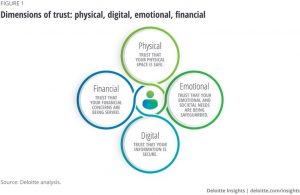 Physical Trust
The workplace has a unique opportunity and responsibility to become a safe haven. Provide visible solutions for sanitation and germ mitigation, reassuring guests and employees they are safe. Leverage tactics inspired by WELL Building Standards, the office can become the trusted environment employees need.
Emotional Trust
Increase cooperation between marketing and HR brand stakeholders to create holistic solutions that build upon each other. Create symbols of trust to nurture a shared sense of connection and solidarity. Provide reliable alternatives to connecting face-to-face and enhance remote work capabilities. Amplify opportunities for collective initiatives that uplift everyone and reinforce a shared vision for success.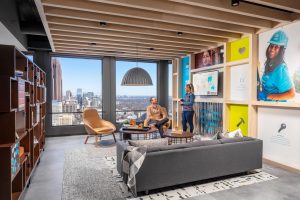 Financial Trust
Reassure employees with transparent communications around business health, company plans, and intentions. Help them understand that as the economy and business recover, so, too, will employee pay. Extend trust and empower autonomy to demonstrate your loyalty and confidence.
Digital Trust
With more remote work, employees will be concerned that their work-related and personal data are secure and private. Invest in behind-the-scenes solutions, systems, and network infrastructures to create a flexible workplace that adapts to the new reality.
As we seek to normalize operations, employers will be held accountable for operating with integrity and empathy, standing for something, and taking responsibility. The connection between brand purpose, culture, trust, and values is more evident than ever before. Prioritizing connection, culture and reputation enables organizations to prosper in uncertain times.