The Magis Pup Goes To Mars
By: Creative Fuel
This year, NELSON NYC teammates had the chance to transform every interior designer's favorite pup, the famous Magis Puppy designed by Earo Aario, into a unique and inspiring piece of art for the 2019 Magis Pup Challenge. The event, held in New York City on October 23rd, brought various design firms together for a creative competition and live auction hosted by Herman Miller in support of Social Tees Animal Rescue.
During the weeks leading up to the Pup Challenge event, teams across local New York City design firms spent hours reimagining their Magis Pup. Transforming such a classic piece wasn't easy, but in the end, the NELSON Pup proved to be a success after winning the People's Choice award for the night. Inspired by all things outer space, the NELSON pup eventually became Rover, the first four-legged astronaut to land on Mars. Keep reading to learn more about how Rover came to be and what it took to bring him to life!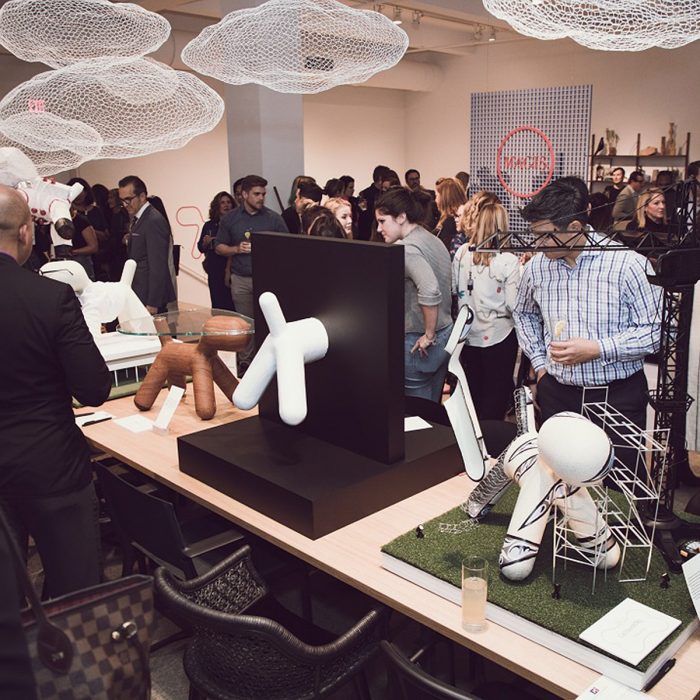 Rover was inspired by NASA's initiative to take humans (and maybe one-day dogs) further into space than ever been before. As a result, our talented teammates created an Astronaut Pup that could be seen on the first spacewalk upon reaching Mars.
Rover was created from a variety of materials and samples that designers and builders use every day:
The Base: A wooden base, painted in a metallic finish, contains realistic looking Martian terrain made by carving rigid insulation and painting with several colors to acheive a realistic look.
The Astronaut Suit: The white suit was cut and sewn from a painter's suit made of the custom pattern made for the Pup. The helmet is a modified plastic fish bowl with door sweeps covered in aluminum duct tape for the realistic metallic look. The same material for the suit was sewn into a 'beach ball' shape to cover the exposed fishbowl.
Defying Gravity: To keep the Pup suspended, a metal rod was installed through a hole in the foot and secured to the base. Once in place, a wire enforced, swaying American flag was added.
The Details: The boots were swen from black vinyl samples with a foam pawprint under the surface. The backpack and headlamps are made of foam covered with the same material used for the suit. Electrical conduit, copper plumbing connections & washers were painted to mimic air supply hoses connect the backpack to the front of the suit. Headlamps were secured to the helmet with magnets, so they can be repositioned/rotated.
Finishing Touches: Red ribbon trim, NASA patches, and a custom dog tag were with NASA's phone number (in case he gets lost in space) were added to tie the whole piece together.
A special thank you goes out to our creative and talented teammates, Ashley Baedke and Tom Attianesefor bringing Rover to life from start to finish! We look forward to more Pup Challenges in the future and loved giving back to a great cause. To learn more and donate to Social Tees Animal rescue, visit here.