The Amenity Effect: Re-Imagining the Traditional Hotel Experience
By: Graham Lochridge Post
Amenities have a profound effect on the value of a building, and new unique experiences make a lasting impression for consumers, employees, hotel guests, and residents. Our mixed-use teammates set out to explore current and future amenity trends in our latest blog series, The Amenity Effect. Follow along as we dive deep into the environments where we work, shop, live, and thrive and take a closer look at the amenities that help make these environments flourish.
___________________________________________
Growing up, I thought of amenities as hotel perks we got to enjoy when we went on vacation. Upon arriving at our destination my dad would say, "leave the bags in the room and let's explore," allowing us to wonder around the property to discover everything the hotel had to offer. As the years went by, we began ranking each hotel experience based on the amenities alone. While the core values of hospitality still provide a recipe for those memories, there are many new and evolving facets to an overnight stay that should be considered when designing the spaces and experiences that shape the environment and how guests choose a hotel.
When searching for the perfect vacation spot, consumers' lists are quickly narrowed down if a hotel doesn't at least check two of their boxes when it comes to amenities. Another expectation for almost all travelers is the cleanliness of those amenities and the guestrooms. But, what do hoteliers do now and post-pandemic when the demand for cleanliness is at an all-time high? And what if the other amenities they favor most are considered high risk for the spread of germs?
_______________________
"Today, hotels and property sharing models are competing not only for the best amenity spaces, but also for the credibility, safety, and cleanliness of those spaces."

—Kelli Fellers, Account Director, NELSON Worldwide
_______________________
In this edition of The Amenity Effect, we're breaking down traditional amenities and exploring new amenities that will drive innovation and reduce friction for hotel stays today and the future:
Baseline Clean
For decades, staple hotel amenities like fitness rooms and swimming pools have been in high demand. To keep these commodities relevant during the current pandemic, as well as in the future, hotel brands must elevate their sanitization and physical distancing procedures, and how they communicate those procedures to guests. Redefining how guests move throughout and interact with a facility is critical to minimize the number of touch points in the guest journey, so they can still enjoy those desired amenities.
Mobile devices will revolutionize the entire hotel amenity experience and simplify the guest journey overall. Guests can use their cell phones to see how busy the hotel gym or pool is before packing up the entire family to spend the day there. They can use their devices to check in and out of an amenity space, order food poolside, print documents in the business center, check the last time an amenity has been sanitized, and more.
_______________________
"Your phone will be your new master key – getting you not only into your room, but access to hotel amenities. It will also play the part of thermostat, remote control, and light switch."

—Jim Stapleton, Vice President, NELSON Worldwide
_______________________
Wellness Focused Features
Some core amenities may move into the guestroom for those that don't want to give up their workout routine on the road and prefer an even more controlled environment. Similar to multi-family design, in-room fitness options may relieve some newfound anxiety associated with the pandemic as seen in IHG hotel brands. Operators are beginning to partner with digitally native brands like Peloton, so guests can stream virtual fitness classes from the comfort of their hotel rooms. Design will evolve greatly as we start to see more in-room amenities and hoteliers will need to pay attention to spacial configuration and noise mitigation from impact and vibration.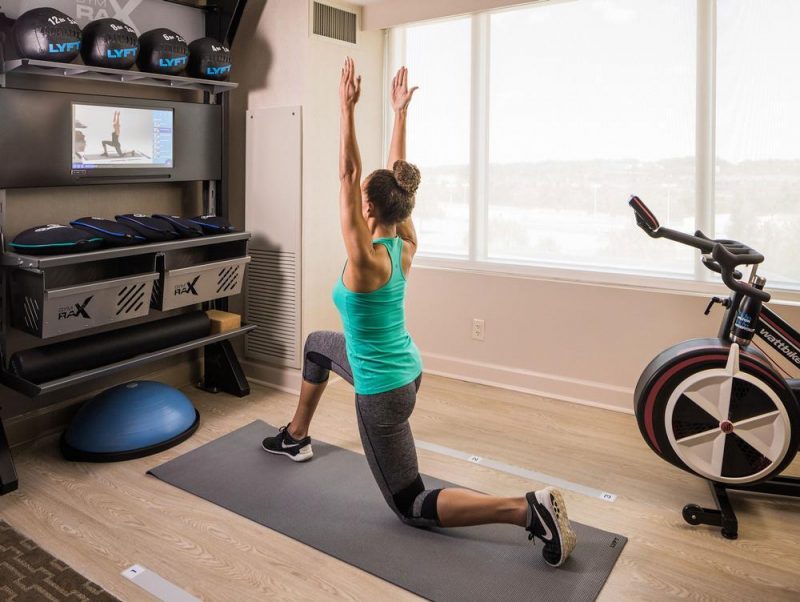 The health and wellness of guests will continue to be a focus for hotel brands, and one of the best ways to accomplish this is through outdoor amenities, Connections to greenspace through biophilic design has been proven to improve well-being. Allowing outdoor amenities for walking, dining, and exercise will cater to the increasing desire to spend time in the great outdoors. Golf courses, beaches, waterfront access, lawn games, curated activity packages, walking tours, scavenger hunts, are all ways to connect guests with nature.
Outdoor work settings with access to power and Wi-Fi can cater to the business traveler or family member that wants to plug in throughout their stay. As the working remote model is increasing with business operations, it's imperative that our hospitality options provide for reliable, and comfortable work environments.
Rooftop access is key where applicable. Hoteliers can leverage the sustainability of a green roof, with the fresh outdoor air and elevated views. Whether its space dedicated to pools, lounges, workspace, food and beverage, or recreation, there are endless opportunities for rooftop amenities.
Intentional Space Shifts
Coworking is taking up residency in hotels as remote work becomes more common and the younger workforce seeks a communal environment outside of the guestroom. Proximity and convenience on hotel property allow guest to have a more encompassing stay. Hotel designers and operators will need to implement technologies enabling cordless sharing of content to screens seamlessly from a phone or device for presentations. And these integrations must still pare with the service expectations guests have come to expect
_______________________
"Meeting and event facilities are core to the success of many hotels. A seamless integration of technology and touchless interaction will help reassure travelers seeking to gather again in larger groups."
—Alex Campbell, Hospitality Studio Director, NELSON Worldwide
_______________________
Smart room automation also supports the need for a better work environment within. The in-room desk and workspace are more important to guests than ever before and can greatly impact the booking decision for business travelers. Some hotel brands are even offering rental packages that allow guests to use rooms as a daytime office. With many people searching to balance working from home, using guest rooms as part-time amenities will grow in popularity in the coming months. Outfitting rooms and workspaces with video capability is essential to keep up with the demand for live conferencing and workflow.
Let's not forget the social opportunities a hotel lobby and lounge can provide. Whether it's a place to celebrate a wedding or family occasion, to meet other guests and travelers, network, or simply unwind after a long day of business or travel, the community aspect of hospitality still plays a pivotal role in the hotel experience. Moving forward, these communal spaces can be designed to inspire interaction while balancing the comfort and wellness of each guest.
It's vital that lobby spaces are dialed in with power and technology to support personal devices throughout. Through design of scale, proximity, connectivity or separation, and aesthetics we can create usable spaces for lounging, gaming, entertaining, working, and socializing. Curated art, cooking demonstrations, mixology classes, craft beer walls all provide a sense of place and experience. Sportsbook hospitality often found in casinos can be recreated within the lobby promoting energetic living rooms to enjoy the latest sporting event with friends or coworkers. Food and beverage concepts are another amenity that can add significant value to a hotel stay, keeping in mind both prepackaged grab-n-go and full-service restaurants. Bringing in local, fresh, and artisan offerings connects the hotel with the community and provides additional choices that cater to the independent traveler or a group that would prefer a more casual experience.
Spirit of Hospitality
Every amenity, experience, and memory can be elevated through good branding. As a hotel operator, understanding one's position in the marketplace, role in the community, corporate partnerships, and overall purpose is imperative to what a brand can bring to the consumer. As seen in much of the work from our NELSON brand communications, strategy and insights, and environmental graphic design teams, a successful brand strategy will elevate the impact of design and services. Graphics, décor, signage, ambiance, products, sounds, and smells are all influences to the memories guests tie to an experience. A brand's value and communication of sustainability will also help inform its decisions on finding balance of operations, cleanliness, and comfort.
Some hotels have aligned themselves with luxury products for the bathroom amenities, guestroom technology, mattresses, furniture, and other amazing objects of design to provide quality and opulent memory and experience.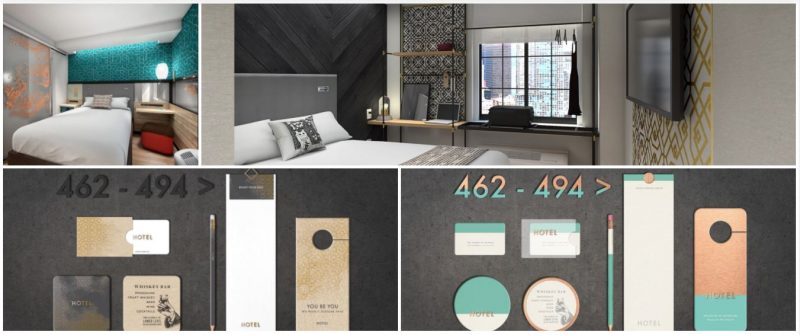 _______________________
"Consumers will hold brands accountable to an entirely new level
of responsibility, especially as they seek guidance on how to best
transition back into travel."
—Tori Tasch, Senior Brand Strategist, NELSON Worldwide
_______________________
Creating hotel innovative amenities will be what separates a memorable lodging experience from something mediocre. Brands that don't evolve and improve their core amenities to remain relevant today will fall behind, and those that are constantly re-imagining new offerings will rise to the top.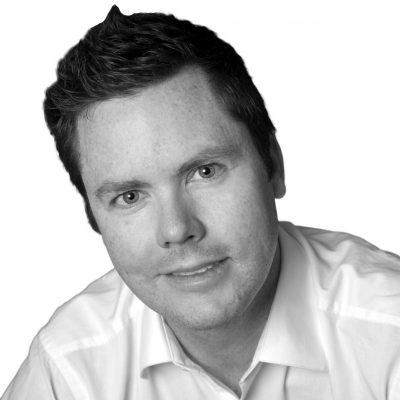 Graham Lochridge Post, Senior Architect
Graham strives to create exceptional environments for his clients, collaborating with them to design spaces that are inspired while meeting their needs and visions. With an in-depth knowledge of rendering software, his expertise lies in 3D visualization and offering support throughout all stages of a project.