The Amenity Effect: Making your Office Building More Marketable
By: Graham Lochridge Post
Amenities have a profound effect on the value of a building, and new unique experiences make a lasting impression for consumers, employees, hotel guests, and residents. Our mixed-use teammates set out to explore current and future amenity trends in our latest blog series, The Amenity Effect. Follow along as we dive deep into the environments where we work, shop, live, and thrive and take a closer look at the amenities that help make these environments flourish.
___________________________________________
When I graduated from Oregon and moved to San Francisco to begin my career in architecture, it was at the peak of the dotcom era. Every other person I met was working for a startup of some sort with stories of ping pong tables, open refrigerators, drink carts, and skateboards in their offices. The dotcom parties we attended were epic with each startup trying to outdo the next, as the city was breeding a culture of having fun at work. Elementary school kids were trading in the vision of becoming a doctor or lawyer for a job at Google because of the perks that it came with. Corporations took note and began adopting the fun at work mentality, by saturating their office buildings, headquarters, and corporate campuses with amenities.
When it comes to workplace amenities, there isn't just one magic formula. Developers and landlords can get creative with the route they want to take, but what matters most, is incorporating brand-centric amenities that complement the surrounding community and overall purpose of the building.
Here are three examples of different approaches to building amenities and their effect on the value of the facility:
1. Multi-tenant building with a central amenity hub
Some savvy developers have seen opportunities to acquire multi-building commercial office parks with little to nothing in common and transform them into campuses like those corporate and tech headquarters. They recognized the trend for hospitality inspired environments in universities that are nurturing our future workforce and the need to provide comparable environments in the real world. Sure each building could be outfitted with its own checklist of amenities, but these developers are aspiring to bring the multi-tenant buildings together with a centralized amenity hub.
Warren Corporate Center in Warren, New Jersey is an example of a suburban multi-building, mixed tenant property that we helped reposition as a unique amenity-rich campus with dining, fitness, sports, conferencing, and workplace wellness offerings. NELSON capitalized on a central location for the amenity building, creating strong indoor-outdoor connections through transparency. The push and pull of building forms encourages visitors to wander into the building and explore the green roof plaza and views inside and out. A variety of gathering spaces offer visitors a new level of hospitality and reasons to stay longer for group meetings, individual work sessions, or corporate functions. The design elevated the quality of architecture and amenity space with the objective of attracting better tenants and encouraging current tenants to engage with a campus community.
2. Social hub for wellness, collaboration, and after-hours activity
There are also opportunities to expand upon the more traditional fitness, conferencing, and dining amenities by positioning a facility as a social hub for wellness, collaboration, after work happy hours, and sports leagues.
Our approach in Alpharetta, Georgia was to position a new two-story building into the existing hillside to take advantage of the topography and maximize views to the natural surroundings and very active softball field. A terraced amphitheater provides both space for softball spectators, as well as causal seating and open-air meetings. Dining, lounging, and recreation spaces were arranged along a grand outdoor terrace that overlooked the ballfield, with all-glass walls to reinforce indoor-outdoor connections and provide natural light and stunning views throughout. A well-equipped fitness center is tucked into the lower level which features a high-end cardio and weight gym, classrooms, and spa-like locker and shower facilities to fulfill the cornucopia of centralized campus amenities.
3. Storied destination with outdoor and local flare
Storytelling can be a huge influence for leasing and attracting a tenant who seeks to provide an authentic environment for their employees. Adding outdoor elements and local flare can also add value. As crowded fitness centers, classrooms, and cafes hit pause for a while post-COVID-19, and more people continue to work from home, it will be necessary to provide a safe work environment.More thought and effort should be focused to evolving and merging the physical confines of a structured building with the fresh openness of the outdoors. Trails, walking paths, bike share programs could couple with covered outdoor working opportunities. Perhaps extended stay hospitality will make its way to these amenity buildings in the form of on-campus micro-suites that could provide for safe and convenient overnight stay and work opportunities for traveling employees, consultants and clients. Wherever the amenity game leads us, we as designers, owners and developers can seek to provide a blended biophilic connection of comfort, privacy, flexibility, inspiration, and efficiency in the way we work.
Latitude in Parisspany, New Jersey is an example where proximity of the existing buildings to I-80, helped inspire our branding and design teams to adopt a metaphor of coast-to-coast connectivity and the American landscape in the branding and design of the renovation. The main focal element of the project was the glass-enclosed space that would connect the two separate buildings to create a figurative crossroad for the entire property. A grand stair in the space responds to the site's topography, reinforces outdoor connections, and provides the defining social gathering space for the campus.
The underutilized, long, linear landscaped area along the buildings has been re-imagined as a variety of outdoor amenity spaces that reinforce the coast-to-coast concept with elements that reflect vernacular imagery from across the country and offer options for events, recreation, individual reflection, spontaneous interactions, and collaboration.
The amenity effect for workplaces goes beyond recruiting and retaining employees. Whether a space is meant to connect tenants and inhabitants, inspire wellness and socialization, or tell a brand's story, amenities are the valuable tools that grab attention and keep people coming back and engaged while they're there.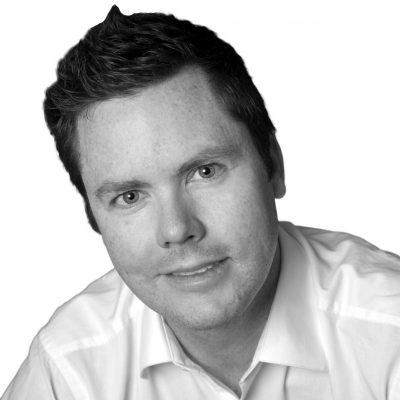 Graham Lochridge Post, Senior Architect
Graham strives to create exceptional environments for his clients, collaborating with them to design spaces that are inspired while meeting their needs and visions. With an in-depth knowledge of rendering software, his expertise lies in 3D visualization and offering support throughout all stages of a project.