Since the onset of COVID-19, we've seen many creative solutions as it relates to the built environment. The problem is, most of these solutions lack longevity and sustainability. Quick fixes and band-aid solutions may make an impression now, but it's critical that we create environments, not based on knee-jerk reactions. We must instead focus on changing consumer behaviors, and the longer-term byproducts of the pandemic that will forever change the way we engage with the world around us.
There will be six longstanding byproducts of COVID-19 that will greatly affect the most desired multi-family amenities: heightened appreciation for socialization, increased demand for e-commerce, the transition from work-life balance to work-life unity, and enhanced expectation for convenience.
Socialization Side-Effect
Even if people aren't comfortable being physically close to others, there will still be an overwhelming yearning for socialization. Tapping into those lifestyle opportunities for connection will be crucial, from dog parks to outdoor co-working spaces, residents want an excuse to interact, even if it's at a distance. Simple visual cues can generate a greater sense of connection such as more space, light, and open sightlines in the mailroom or additional windows or access to outdoor common areas.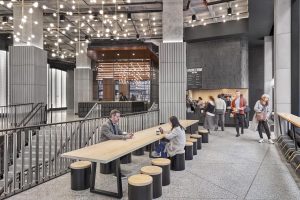 Enhanced E-Commerce
With the rise in e-commerce sales and third-party delivery services, it is more important than ever before to streamline logistics for those living in multi-family communities. Think cold and warm food storage for meal prep subscription boxes and third-party food delivery services, in addition to more dedicated storage space for packages. These secure, designated areas are not only efficient for picking up items, but must also be appealing to spend time in.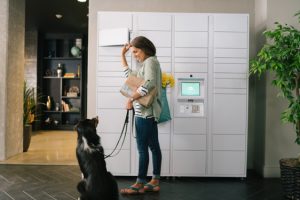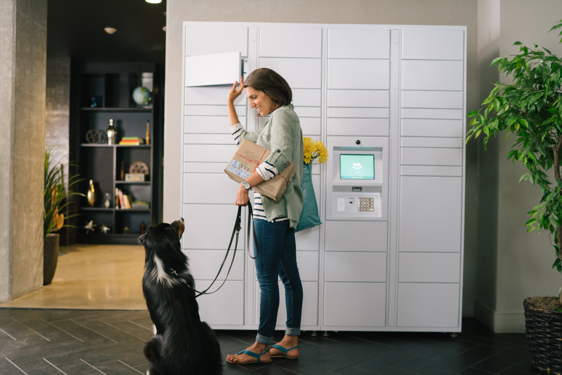 Work-Life Unity
Working from home will perhaps be the most significant byproduct of COVID-19. As office footprints start to condense, multi-family units will need to increase their square footage to accommodate at-home offices and privacy from pets and children. Elevated, co-working spaces throughout the building, both indoor and outdoor, will also need to be a seamless option. Co-working amenity spaces offer an avenue to get away from the home office, ensuring the ability to separate the office from home if desired.
Doorman-Style Details
As consumers have become accustomed to expanded service offerings and the ease of digital convenience, multi-family developments will need to elevate their customer service, adding a heightened level of hospitality. With more residents spending time at home, the value of convenience will differentiate a development for the better. Ride-share lounges, flexible, all-season entertaining space, bike storage, and even in-house bars or restaurants as part of the clubhouse experience, will go a long way in supporting resident's newly adjusted lifestyles.
Well-being Over Wellness
It's important to recognize the pandemic as a significant hardship, knowing that residents will be dealing with stress, anxiety, or even stages of grief. Going forward, it will be crucial to create environments where people feel safe, productive, and supported. This desire for emotional support will drive well-being to take precedent, going beyond physical wellness, including mental and even financial health, activating amenities like meditation rooms, on-demand financial counselors, child care offerings, increased outdoor space, or even virtual therapy. While WELL certified is the gold standard, expect to see new certifications come to fruition to address these changing resident expectations.
The Great Outdoors
Much like other trends that have rapidly accelerated due to the pandemic, private outdoor spaces for multi-family buildings have always been desired, but the pandemic has made them critical. With more people spending time at home than ever before, having an outdoor escape has become essential – it becomes the new third space – an oasis from work, an untraditional office, the local watering hole, or even the gym. The revelation is to make these spaces more flexible, creating as much open-air space as possible, not only for a sense of well-being, but for a boost in mental health, and the freedom to access fresh air on-demand.
Communal outdoor amenities must evoke a sense of community, while still offering the potential of individual space or small group engagement. Rooftop decks will continue to be a hot commodity, for this reason, allowing easy access to an outdoor oasis with hybrid spaces for privacy and community. A development that can provide adaptable, outdoor spaces that offer an element of surprise or delight – whether it's a good view, built-in entertainment, or extended workspace – will continue to stand out in the market.
Finally, residents want an elevated, furnished balcony to relax, unwind, and entertain – it should seamlessly support those activities, created with outdoor food and beverage consumption in mind. And because most multi-family buildings invest in state-of-the-art fitness centers to attract tenants, an outdoor balcony is usually never used for anything more than yoga or meditation.