Generally, when we work with clients on developing their brand purpose and brand personality, we talk about creating a purpose that resonates with the core of who they are and what they do. We tell them it should be something that lasts for the lifetime of the brand, not something that should change based on shifts in the market. However, during unprecedented times such as these, brands will need to acknowledge how the crisis affects them and react in a way that supports their loyal consumer base. As humans, we elevate different parts of our personality to match the situations we're in. If brands are a reflection of ourselves shouldn't they do the same?
Here, we explore a few brands that have adapted successfully, and share a few tips for other brands to follow:
Be Human – act with sensitivity and compassion, like a real human, not just a brand
Lead Purposefully – authentically and consistently lean into your brand values
Act with Intention – back up your adapted tone of voice with actions
Skyscanner
Skyscanner, a travel company based in the United Kingdom, transformed their normally humorous tone of voice (TOV) to be more compassionate and sensitive. They leaned into a sense of positivity even though they are significantly impacted by non-essential travel disappearing.
Instead of lamenting the fact that travel isn't a possibility at the moment, Skyscanner leaned into their brand ethos of being "the travel company who puts you first" and posted fun ways to engage with consumers during their time at home. Their efforts include creating curated playlists on Spotify with travel-inspired songs, a blog that shares travel guide videos of places around the world, and travel-themed "play packs" for kids to do indoors, They even crowdsourced content from their employees.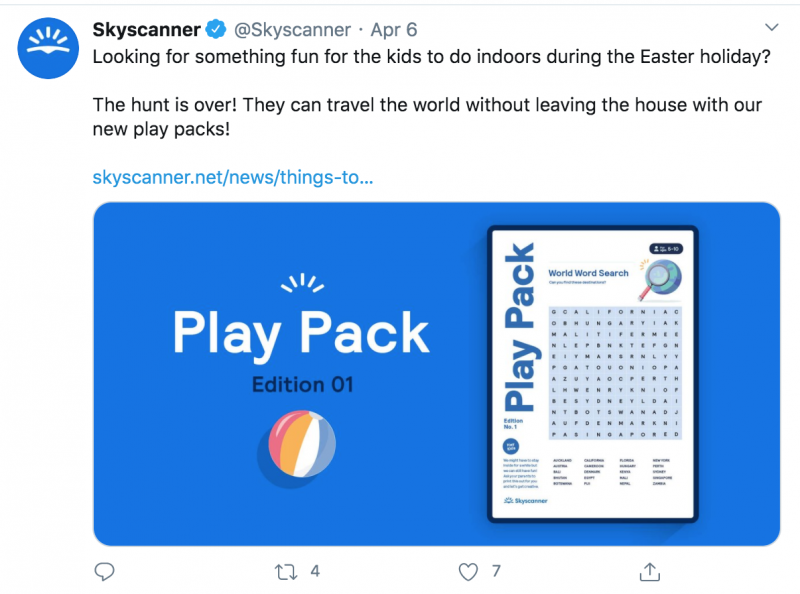 YouTube
YouTube has long touted their platform as a "community." During the COVID-19 pandemic, they are taking that a step further by encouraging their community to"Stay Home with Me." They are sharing channels and videos from creators who are developing content ranging from crafts to exercise.
One of their other brand values revolves round the "freedom of information." They previously used this to highlight how-to videos and news channels, but recently partnered with Khan Academy to help students "Learn @ Home."
YouTube is staying committed to their efforts by changing all their social media accounts to say, "YouTube at …" and regularly posting new videos every few days. They are taking this time to focus more on the content that creates community, provides support, and enhances education rather than elevating some of the more lighthearted entertainment content previously hitting the trending pages.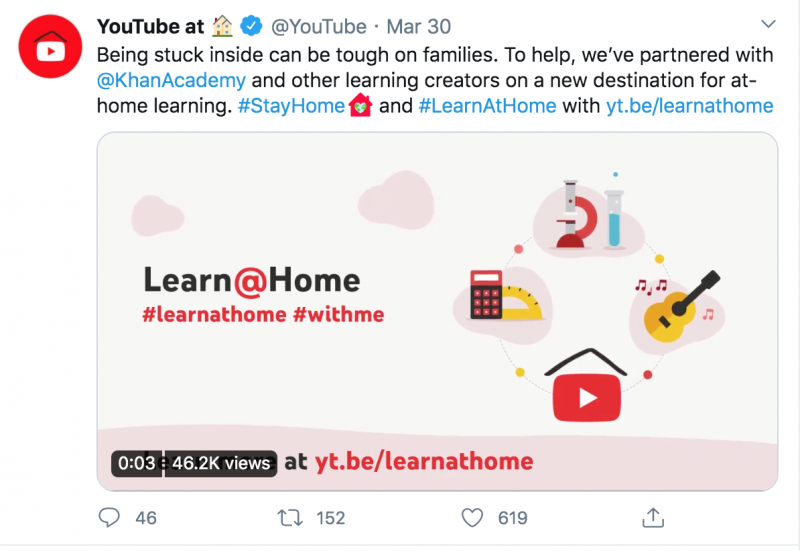 Dunkin'
Dunkin', known for their joyful and pun-filled TOV, pivoted to honoring all essential workers and making sure employees and consumers are staying safe.
Dunkin' understands times are tough, so they are shining a light of positivity by donating from their Dunkin' Joy in childhood foundation to organizations working on the frontlines during this crisis. They are donating coffee and donuts to hospitals, encouraging franchisees to support their communities, and posting the precautions they are taking to keep employees safe.
Instead of only offering discounts and deals, they are showing appreciation for people who are working right during this crisis. A simple cup of coffee and a donut could be just what a first responder or cashier needs right now.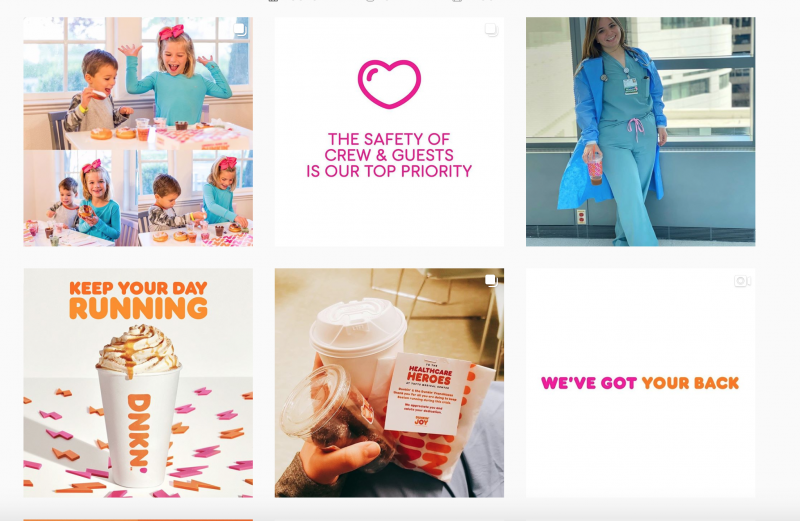 Where do we go from here?
Brands will continue to adjust their response in an effort to react in a way that will draw consumer loyalty. They will also continue to measure consumers' attitudes during this time. Right now, people are trying to pass the time, so brands will continue getting creative to keep everyone occupied and maintain share of mind.
Here are a few brands staying creative during COVID-19:
Madison Reed's videos on how to dye your hair at home.
Headspace's live Instagram videos called #TakeTen featuring the CEO and a special guest doing guided meditations.
P&G sponsored #DistanceDance TikTok videos to encourage younger people to stay at home. For the first three million videos posted, P&G is donating to Feeding America and Matthew 25.
Takeaways for Brands
Brands need to be strategic about what messages they want to communicate during this time because what they say and do now will impact how people will remember them when this crisis is over. Brands that make the right decisions could emerge stronger and have a more dedicated customer base, those that don't might struggle "winning" back consumers.
As brands evaluate their next steps, there are a few questions they can ask to help find the right path forward:
Is your current voice enhancing your brand values and brand purpose?
Does your messaging and tone of voice reflect what your consumers need?
Are you providing levity where it's needed and support/empathy when called for?
Will this message encourage safe reactions or endanger lives?
Have your actions supported your words?
COVID-19
Insight
Strategy & Insights