Nike's New App-Fueled Flagship
By: Creative Fuel
Nike's newest flagship store has opened its doors on Fifth Avenue NYC. The 68,000 square foot, six-story flagship paves the way for future retail and transforms the way people shop for their favorite Nike sneakers and apparel. Fueled by Nike's mobile app, the "House of Innovation 000" store allows shoppers to scan QR codes on mannequins and apparel to see sizes and colors that are available to purchase in-store.
Staying digital, customers can also send merchandise on display to a personal fitting room through the app – freeing customers of carrying merchandise and shooting product through tubes all over the store. There are no cash registers in the store, Nike Instant Checkout, available by app, allows shoppers to select an item, scan a barcode, and pay with a saved credit card. The app does more than help customers, it also uses geo-fencing technology synced to the perimeter of the store, so that when a shopper enters it immediately switches to the store's interface system and begins collecting data. While shoppers roam, the app tracks behaviors that allow Nike to see how shoppers interact with the merchandise and services. This gives the brand insights into how it can provide a more personalized experience.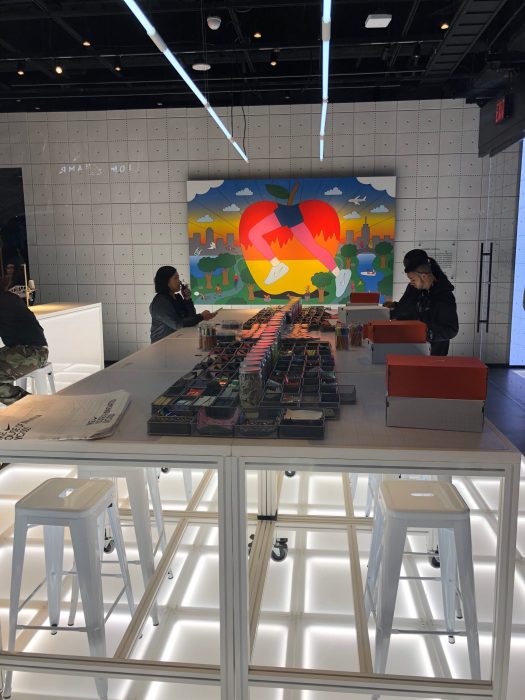 Personalization, a theme that has been a part of the brand's previous store concepts, is another highlight of the flagship's experience. At the new and improved sneaker bar, shoppers can create unique products by dip-dyeing, printing, embroidery, adding patches, etc. The bar also includes a variety of laces, zippers, and tongue tags. In less than an hour, a customer can have a fully customized sneaker designed and ready for pick-up in 2-7 days. The store was designed to have responsiveness both digitally and physically, from six-levels of modern, industrial design to a fully integrated tech system that creates a seamless shopping experience the House of Innovation 000 flagship store is not only changing the way Nike customers shop but pushing the limits of retail in every way.