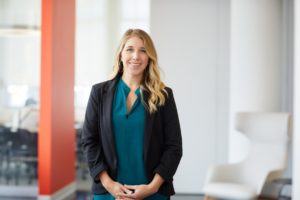 Philadelphia, Pennsylvania – January 24, 2023 — Award-winning architecture, design, and strategy firm NELSON Worldwide is excited to announce the addition of Katie Pass-Brinker as Design Leader, Hospitality. Katie will work closely with the interior design team to create and implement high-level design for the hospitality sector, providing direction and mentorship from concept through construction.
"Katie has more than 16 years of experience in the world of hospitality, working on a range of projects from large-scale operations to independent brands," notes chairman and Chief Executive Officer at NELSON Worldwide John "Ozzie" Nelson Jr. "Her unique ability to elevate interior spaces that reflect a fresh interpretation of the client's vision while championing a collaborative process will be paramount as we continue to grow the hospitality practice at NELSON."
Passionate about the creative process and turning ideas into reality, Katie develops design concepts that allow guests to become fully immersed in their environment, where every detail is carefully thought out from arrival to departure. Katie never misses an opportunity to be inspired by her surroundings, whether through nature, art, fashion, culture, architecture, or food, and readily infuses these ideas throughout her projects using colors, patterns, and textures.
"I am looking forward to being a part of NELSON and working alongside an all-star team to elevate hospitality spaces and deliver a thoughtful design that's on time and on budget," remarks Katie. "I thrive when working on multiple projects and with varying team members, and I am excited for all that's to come from our practice."
Having led and managed design teams for over a decade, including as Design Director and Principal at Daroff Design, Katie is highly organized and well-versed in the design process, from client management and creative planning to furniture selection and specifications. In coordinating directly with architecture teams, she is able to ensure the design vision stays true through documentation to construction phases. Katie has helped develop restaurants, hotels, resorts, nightclubs, and more throughout her career, including Universal's Cabana Bay Beach Resort in Orlando. Florida. She holds a Bachelor of Science in Interior Design from Philadelphia University and received her NCIDQ certification in 2012.
###
About NELSON Worldwide
NELSON Worldwide is an award-winning firm, boldly transforming all dimensions of the human experience through architecture, interior design, graphic design, and brand strategy. With more than 700 teammates across 20 offices, the firm's collective network provides strategic and creative solutions that positively impact where people work, serve, play, and thrive. The team combines industry knowledge, service expertise, and geographic reach to deliver projects across the country and around the world. Client partnerships across the NELSON network include Hilton, Macy's, Comcast, Simon Property Group, Prologis, Yum! Brands, Boston Consulting Group, T-Mobile, Emory Healthcare, SAP Fieldglass, Unibail-Rodamco-Westfield, Kroger, Hyatt, Bayer, Target, and many more. Visit www.nelsonworldwide.com to learn more.