To understand the impact of the e-commerce revolution, look no further than the streets of American cities. Scooters, small delivery vans and rideshare package delivery cars buzz around in increasingly larger numbers to fulfill the gotta-have-it-now urges of convenience-hungry consumers. The new buzz on the streets is just one symptom of a broader change that is pushing industrial development in new directions.
We are, of course, talking about the buildings that sometimes go unnoticed: the fulfillment and distribution warehouses that keep the flow of goods churning across the U.S. E-commerce has reduced the role of the middle-man physical store and re-routed the line from inventory facility straight to the consumer. And unlike the past several decades which saw businesses locating logistics centers in suburban or rural areas with plentiful land, retailers are turning their sights now to dense, urban areas to fulfill the demand for high-speed delivery.
At NELSON, we have spent years with our ears to the ground on this trend, conferring with key real estate leaders, building tenants, city officials, entrepreneurs and even looking abroad to understand how industrial architecture must change to accommodate the realities of retail in the 21st century. What's clear is this: the future of industrial development is vertical.
Why Build Up?
A confluence of trends and pressures over the past five to ten years has been slowly nudging warehouse facilities to the city. Internet retailers, led by Amazon, first brought the convenience of shopping online, eventually making next-day delivery, and then same-day delivery, the norm. Concurrently, the in-person shopping experience is evolving. Some high-end retailers are opting for "non-inventory brick & mortar" stores that immerse the consumer in a "touch & feel" brand experience, with the delivery of products occurring separately. Retailers have been forced to innovate and find ways to minimize costs to meet the new standards they have promised their customers.
With the highest portion of the cost in the supply chain at 50%, transportation was the obvious first candidate for cost reduction. Urban lifestyles create some of the highest demand for high-speed delivery, and so urban warehouses bring products as close as possible to the end-user, cutting out the need for costly transportation from suburban or other regional holding facilities.
Space is a consideration for any piece of urban real estate. Extreme scarcity in major cities means both land and rentable space are costly, but transportation savings offset this. Still, CBRE found in a recent survey that e-commerce requires three times as much warehouse space as other uses, reinforcing that the only way to build urban industrial structures is up. CBRE projects that large urban areas will require 160 new e‐commerce logistics centers averaging 800,000 SF, and 110 new or re‐purposed facilities of 75,000‐100,000 SF as urban infill projects in key urban markets over the next five years.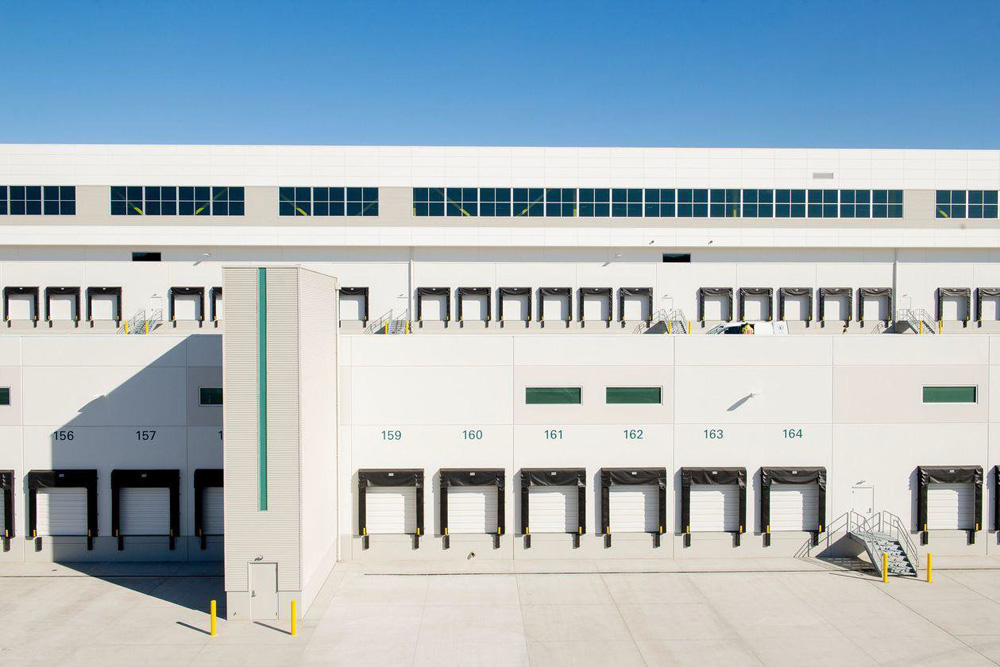 The Modern Multi-story Warehouse
Land-constrained countries around the world, particularly in Japan where supply both in and outside of major metropolitan areas is limited, have been forced to develop innovative urban industrial solutions a lot sooner than in the U.S. Working with our client Prologis, the largest industrial real estate company in the world, NELSON brought the first urban multi-story facility with dock loading on two levels to the U.S., located conveniently between Seattle-Tacoma Airport and Seattle's central business district at Georgetown Crossroads. The project is a success story born of a three-year intensive effort that studied and analyzed a variety of state-of-the-art solutions to produce a first-in-class, trendsetting development.
The goal was to create a facility that helps potential delivery tenants such as FedEx, Amazon, and Walmart reduce the cost of the "last mile" or the last leg of a product's delivery journey. The building's key innovation is its ability to run loading operations across two levels at once. Not only does this mitigate the cost of expensive urban land, but also transportation costs, by utilizing smaller delivery trucks with quick turn-around.
Project Overview
The first story of the 589,000 SF Prologis Georgetown Crossroads is designed as a double-loaded, last-mile, 28-foot-clear distribution space, ideal for the demands of e-commerce. The second level provides a single-loaded 24-foot-clear distribution space served by two truck ramps. The third story provides space for manufacturing, showrooms, R&D, or "maker space" served by three freight elevators.
The speculative building is designed to be flexible for distribution and light manufacturing. The floor load capacity on level two is 300 lbs per square foot which allow for full storage racking of goods similar to the ground-floor racking and the loading dock includes full pit dock levelers. Level two can also easily be gated at the truck ramps, negating the need for additional security.
The two truck ramps are a combination of earthen ramp and precast bridge construction that has never before been connected to a building in the U.S. The connection of the precast ramp to the building and upper-level full-truck court was studied and detailed to minimize sound transference to the tenant space below and to accommodate independent seismic movement by two different types of structures.
For users that are coming from the Port of Seattle or delivering last-mile to the downtown core, this facility provides the location and distribution attributes for them to get their products to their customers efficiently.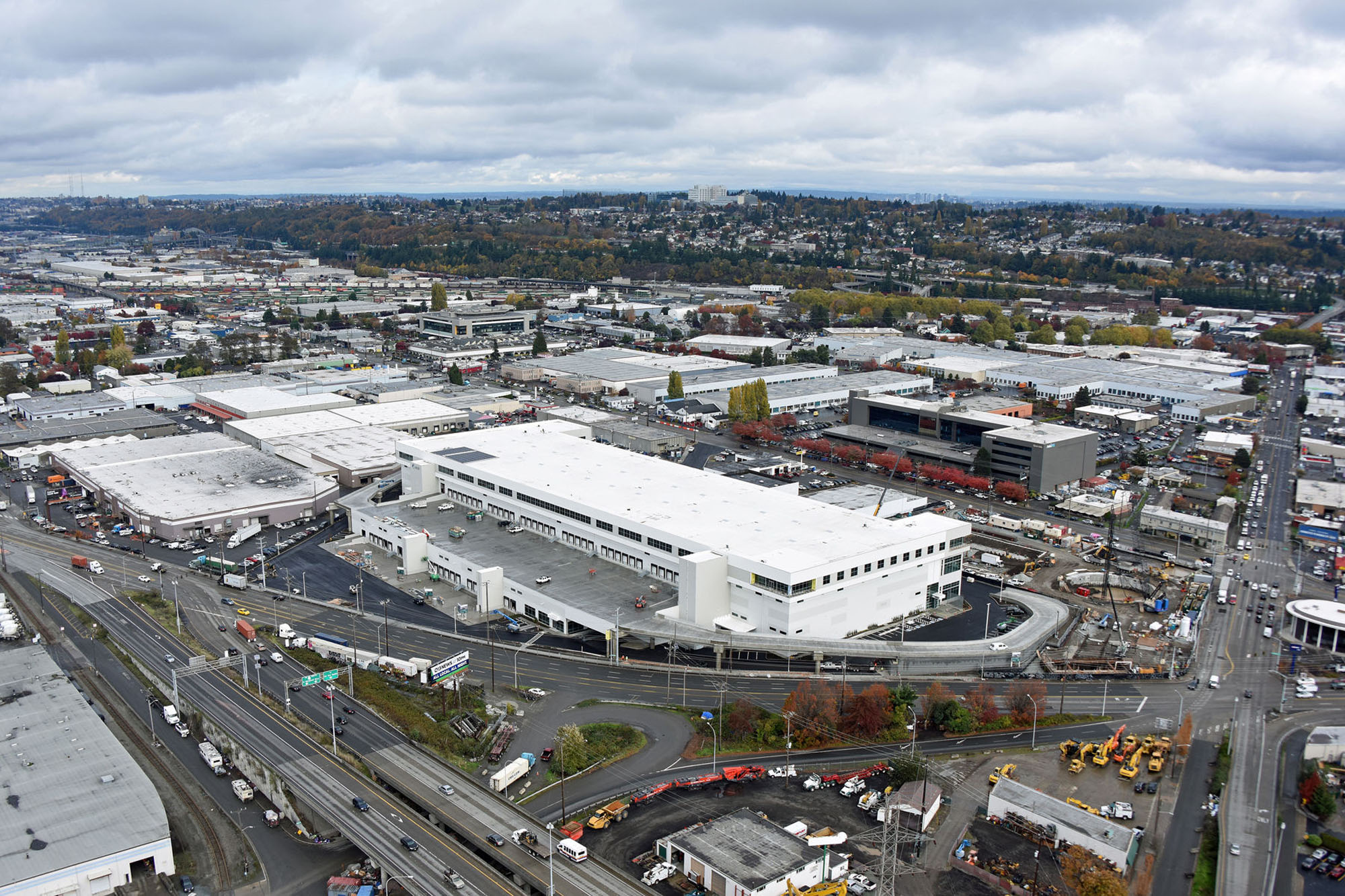 Concerns for Urban Industrial
The availability of parking is a consideration for any urban structure. The building tenants at Georgetown Crossroads are supported by a detached four-story parking structure that can also accommodate taller box van storage on the first level.
Another goal for the project is to provide high-demand space for companies utilizing a labor force that wants to live and work near home in an urban environment with access to public transportation and nearby lifestyle amenities. Georgetown Crossroads includes employee conveniences such as a shared conference center, Class A restrooms, and a workout gym with showers to fulfill these needs.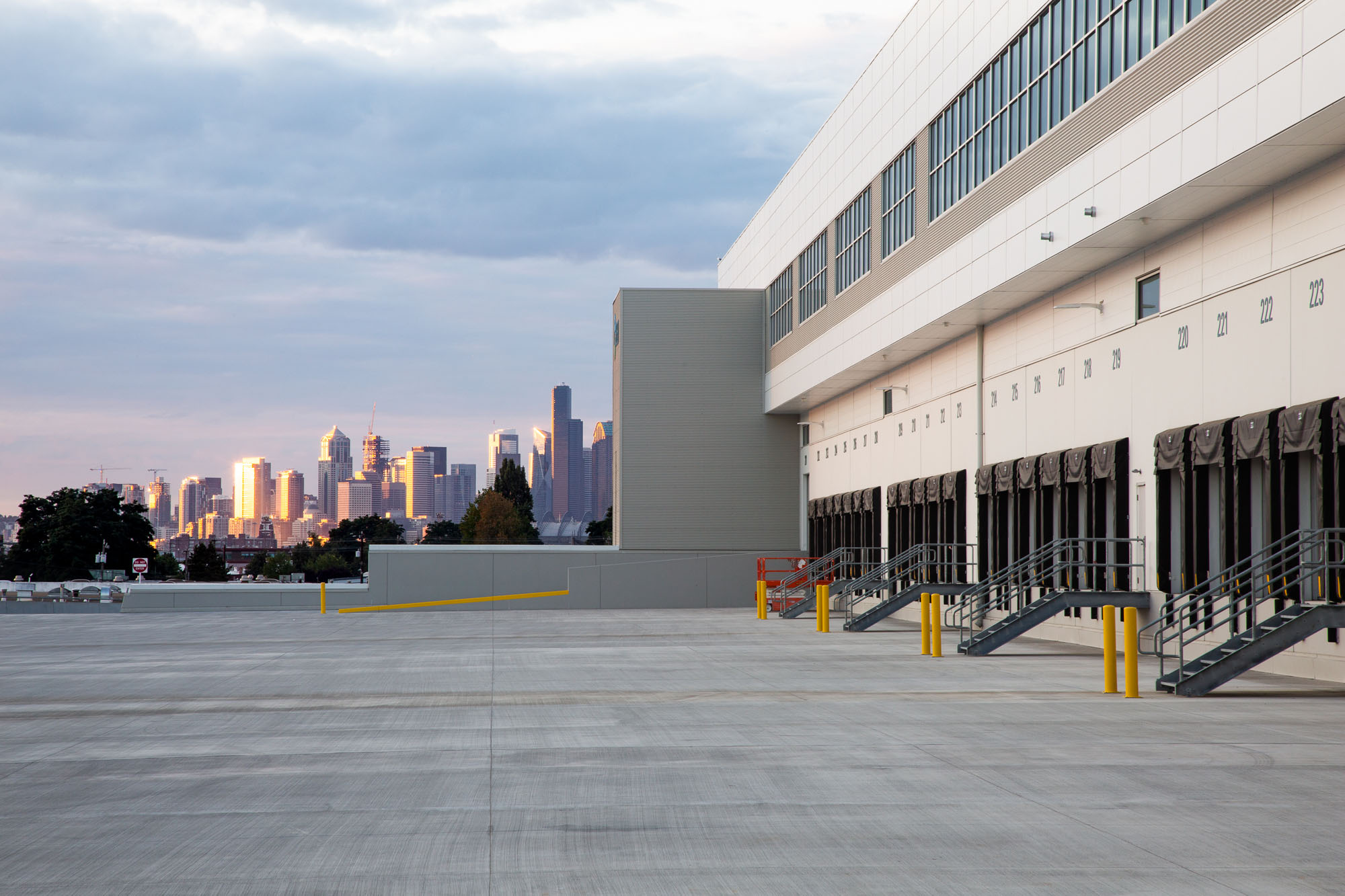 The rise and dominance of e-commerce continue to alter the way companies do business across time and space. As consumer needs evolve, internet retailers continue to find logistics solutions within major cities to slash transportation costs and make high-speed delivery more convenient. At NELSON, we continue to "lookup". We believe innovative architectural solutions can speed the pace of change in the industrial sector and comfortably integrate high-tech distribution facilities within cities and across the country.