New York Market Week and NYCxDESIGN are fast approaching and as retail continues to rapidly transform, we're looking beyond the immediate industry, to environments and concepts inspiring the retail of tomorrow. Today's consumers engage with brands in a fluid manner, the traditional sectors of the retail, restaurant, hospitality, and entertainment have blurred as the consumer-desired experience has become a mosaic of expectations, influenced heavily by engagement, access, and authenticity. Embracing these new expectations presents brands with a greater opportunity to differentiate, cross-sell and expand the breadth of their brand experience. So, this year while in the city we'll be exploring some of the city's most innovative new concepts across multiple industries, that we think could be a driving force in the retail experience of the future.
This first segment will focus on Food + Beverage concepts, with more markets showcased in the coming weeks. Below you will find the best spots in and around NYC to experience food – whether it's a market hall, grocery pop-up, or mobile supper club.
Resident | Mobile Supper Club
New York's newest buzzy supper club popping up in secret locations in Williamsburg, Brooklyn. Acting as a culinary incubator pop-up, chefs and dinner guests and chefs get the chance to host one another to enjoy a meal and share stories.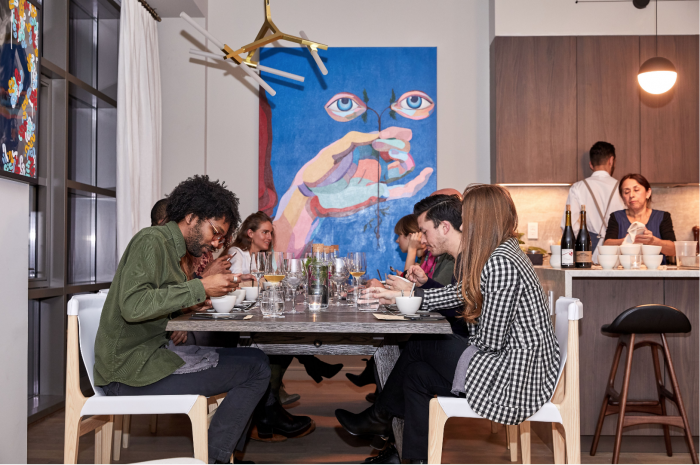 Hungry Root | Flatiron District Pop-Up
This e-commerce grocer debuted it's first ever IRL pop-up this spring in the Flatiron district. At the space, one can find individual items the brand provides online. The store is as bright and charming as the brand and you're sure to find something to snack on if you stop by.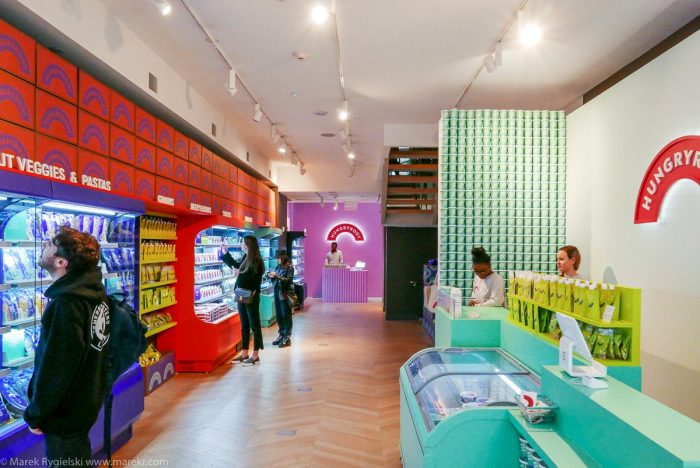 The highly anticipated move of Essex Street Market has come and many of its legacy vendors are going with it. Previously known as NYC's oldest public market, the move to Essex Crossing will make room for even more food vendors and businesses alike. In addition to plenty of food stops, ESM will also have retail, office, and apartment spaces. New to the market's concept will be the Market Line, a developer-owned food hall that will be located on the lower level.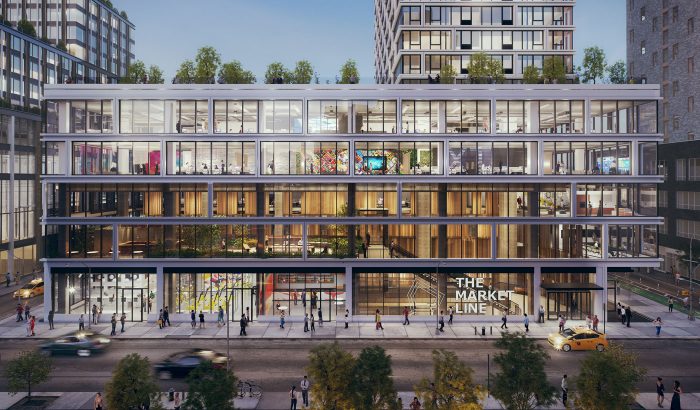 Mint Kitchen | Union Square Fast Casual
Mint Kitchen focuses on fresh Israeli dishes and snacks as a fast-casual concept. The 50-seat space is bright and open, finished with light wood and lots of greenery. A traditional taboon oven anchors an open kitchen decorated with emerald-colored tiling allowing customers to see the chefs in action.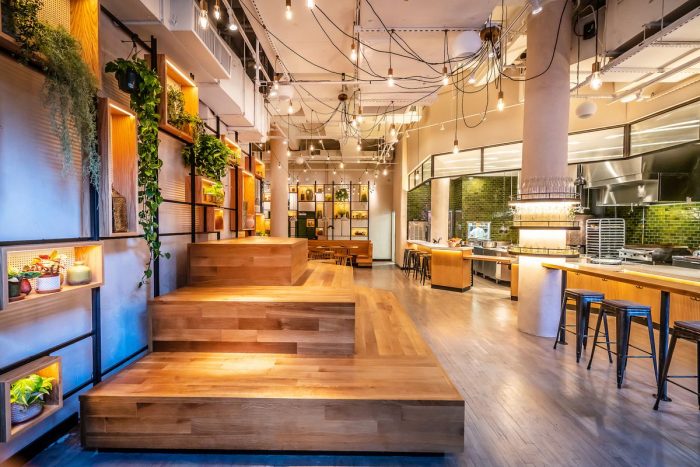 Gertie | Williamsburg Luncheonette With A Twist
Paying homage to an iconic grandmother, Gertie located in Williamsburg is a newly opened "luncheonette" serving old-school deli counter offerings with a 2019 twist. Here, silverware is presented in mason jars and vintage jars and a colorful mural compliments the naturally lit, 70s motif themed spot.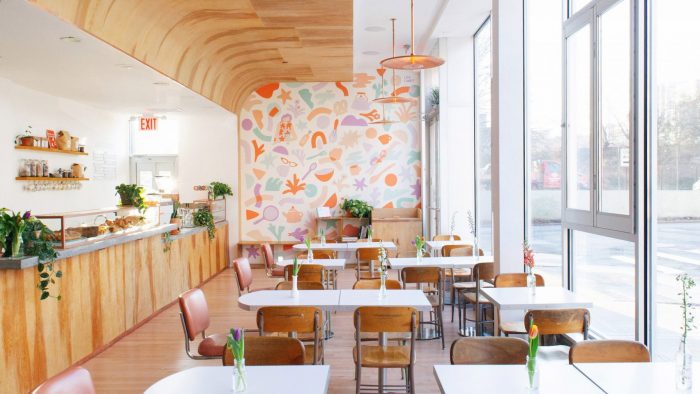 GupShup | Gramercy Hot Spot
The modern Indian theme trend has spread wide across NYC and GupShup located in Gramercy is rocking it in full force dishing 70's Bombay vibes. In addition to tasting fusion heavy dishes, visitors can enjoy live music while surrounded by shiny décor, bold murals, and grand chandeliers.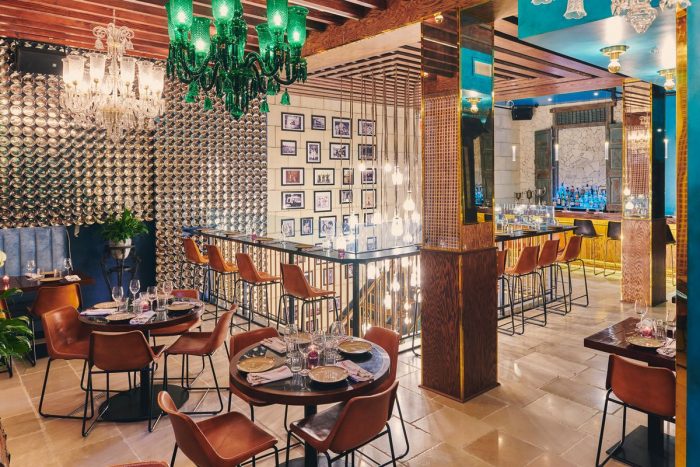 Junzi Kitchen | Manhattan Ambitious Fast Casual
Called the "Chinese SweetGreen" Junzi is a fast-casual concept serving up Asian dishes that you may have never heard of. The company hopes to open 15-20 more locations in Manhattan in the next 3 years and hopes to transform the mainstream American perception of Asian cuisine.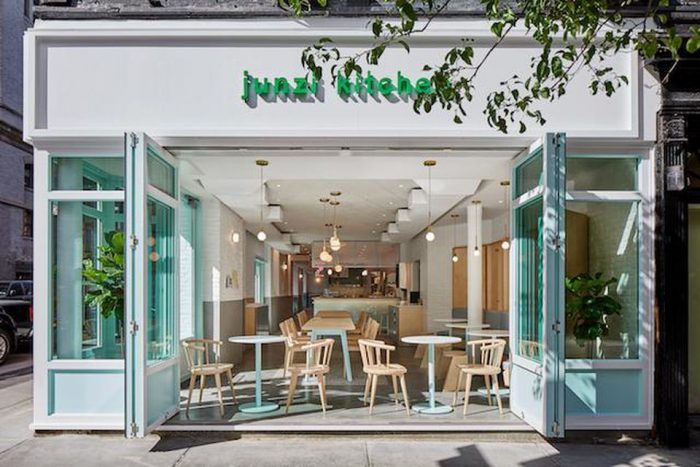 Mission Chinese Food Brooklyn | Buschwick Hot Spot
Featuring a stark concrete interior lit by LED tubes, MCF in Bushwick is nothing short of what you'd expect from this celebrity chef-owned restaurant. Inside you not only get to experience a unique style of cooking but an array of interesting short films produced by the restaurant's design team.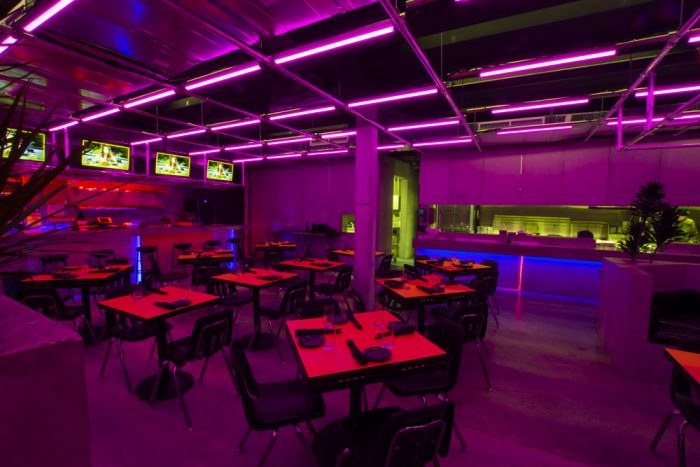 This newly opened (and still in progress) food located at Hudson Yards aims to showcase all that Spain's culinary scene has to offer. The 35,000 SF space has three full-service restaurants, plenty of space for tapas, wine, and coffee, retail space for a flower and dry goods shop, and over a dozen vendor stalls.