Fashion Meets Design: Product Runway 2019
By: Creative Fuel
If you work in the design industry, chances are you've heard of or participated in an International Interior Design Association (IIDA) Product Runway event held by IIDA chapters across the country. Each event is an exciting fashion-filled night that challenges creative minds to make high fashion garments using everyday interior design and building materials. This year, the Cincinnati/Dayton OH Chapter celebrated the big night with a circus-inspired runway show that joined designers and manufacturers from the local area in support of Ronald McDonald House Charities. This season, NELSON was lucky enough to pair with Momentum Textiles to bring their creation to life.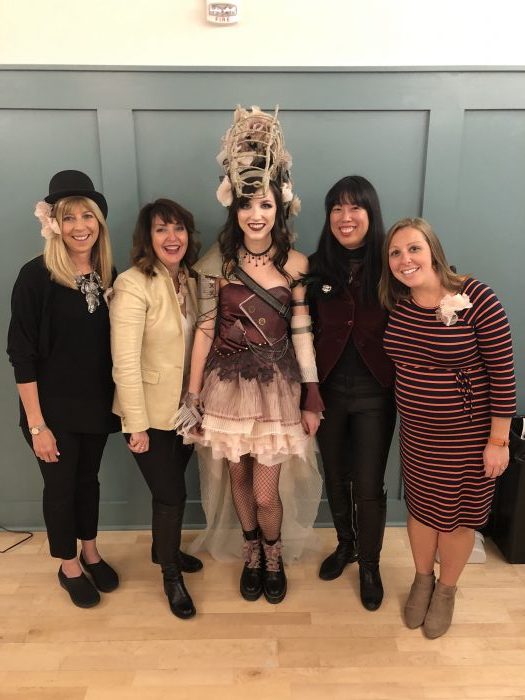 Before we debuted our couture design, the NELSON and Momentum team spent months conceptualizing and gathering material for the final product. Staying in theme with the event, a circus bareback rider inspired ensemble that captured the juxtaposition between a graceful ballerina and the strength of a horse, was developed. After lots of envisioning and sketching the team settled on a look that combined steampunk edge with feminine softness.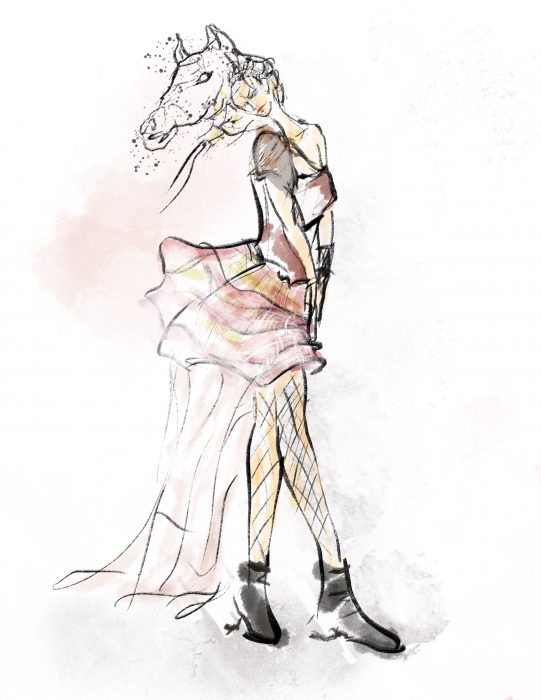 After the team decided on a concept, it was time to choose the materials. For this look, the materials played with light and dark, as well as structure and fluidity, to represent the modern translation of a vintage circus.
Each piece of the design was hand-sewn and constructed using 10 types of sheers/drapery fabric, wallcoverings, upholstery velvets, and vinyl. Read more about each piece below:
Horse Headpiece: Woven vinyl upholstery strips placed on a metal bridle frame covered by vinyl upholstery and salvaged sheer rosettes
Outer Vest: Vinyl wallcovering with velvet trim
Bodice: Velvet base with hand-cut wallcovering trim and drapery taffeta
Shoulder Guards and Hoofed Gloves: Assorted wallcoverings, upholstery vinyl, and sheers
Skirt: Drapery fabric and sheers with tiered pouf skirt and hand-dyed sheers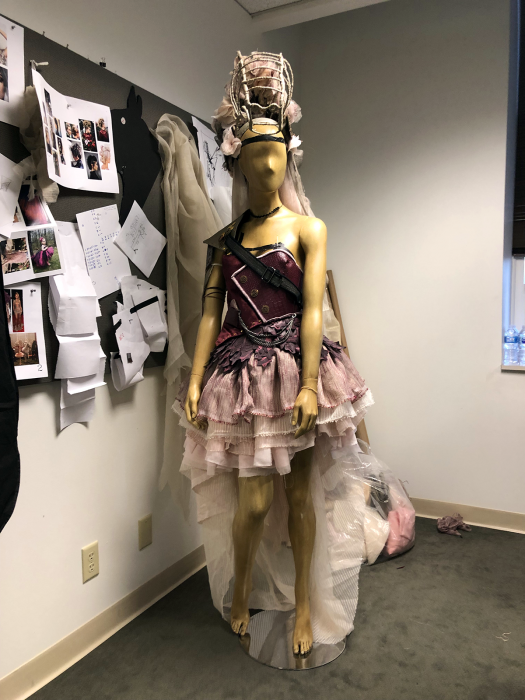 After countless construction and fitting sessions, the piece was finally done and the big night was here. The team spent the hours leading up to the event getting excited as our model went through hair and makeup. At the event, other teams from the area showed off months of hard work. The music, the lights, the energy – it was a blast and even more importantly everyone was there for a good cause. Amongst the fun, the event was also a competition and NELSON/Momentum was happy and thankful to be awarded FIRST PLACE as well as PEOPLE'S CHOICE award! We are so proud of our teammates and partners who made the night so special and worked so hard to bring our vision to life. Congratulations to other Product Runway teams and thank you to IIDA for bringing everyone together for a night of fun and charity. See you next year, Product Runway!
OUR FABULOUS TEAMMATES + PARTNERS:
NELSON TEAM:
Jennifer Eng
Alyssa Crone (Model)
Nikki Gorla
Edgar Claure
Donna Szarwark
Tiffany Tang
Lawrence Song (Final Sketch)
Jon Lewis (Music)
Bryan Goodwin
MOMENTUM TEAM:
Diane Calabrese
Amber Gaines
HAIR & MAKEUP
Dany Korzenborn (Makeup)
Laurynn Kramer (Hair)