Fashion Meets Design at PORTALS Boston 2019
By: Creative Fuel
This November, NELSON Worldwide teammates in Boston participated in IIDA New England's PORTALS Fashion Show—an annual fashion-filled night that challenges creative minds to create high fashion garments using everyday interior design and building materials. This year's "fictional portals" themed event benefited YouthBuild Boston, a program that supports young people in gaining credentials needed to successfully enter the building trades.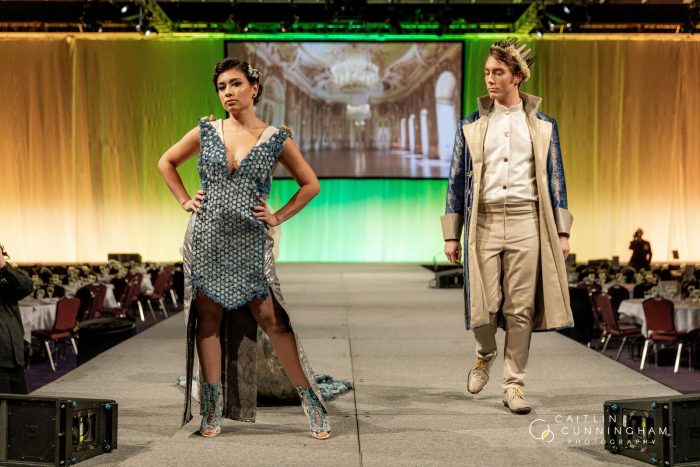 Honoring this year's theme, NELSON created a "Cinderella's Castle" look and show. Before the design process began, the runway team did research on the old tale and Castle itself. As interior designers, it was easy to be inspired by the castle's elegant, old era components such as it's wallpaper and tapestry patterns, mosaic tiles, and juxtaposition of hard versus soft materials. Focusing on taking these elements and giving them a modern twist, the team created two outfits to show off on the runway; one for Cindy (a modern Cinderella), and one for Prince Charming.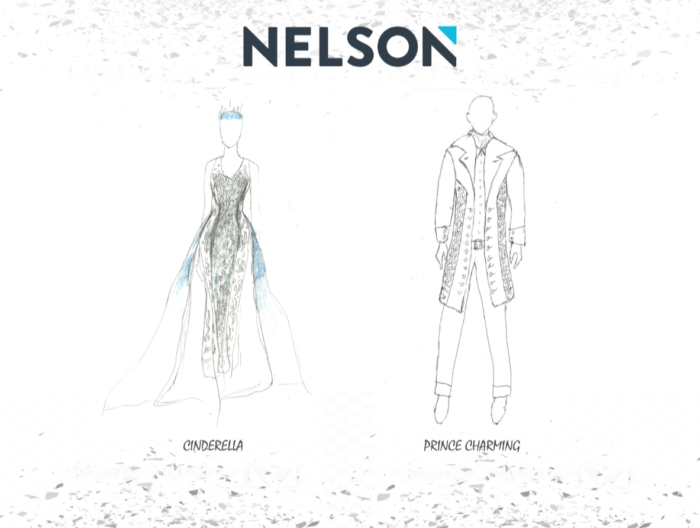 After drawing inspiration and sketching the final designs, the team worked with various vendors to gather materials. Architex supplied upholstery and wallcovering, StoneSource supplied tiles and backing, and Scandinavian Spaces through Designed + Delivered supplied moss to give the outfit a more whimsical feel. After pinpointing the right materials, the team started construction and massaged the productions based on how the materials were working during construction.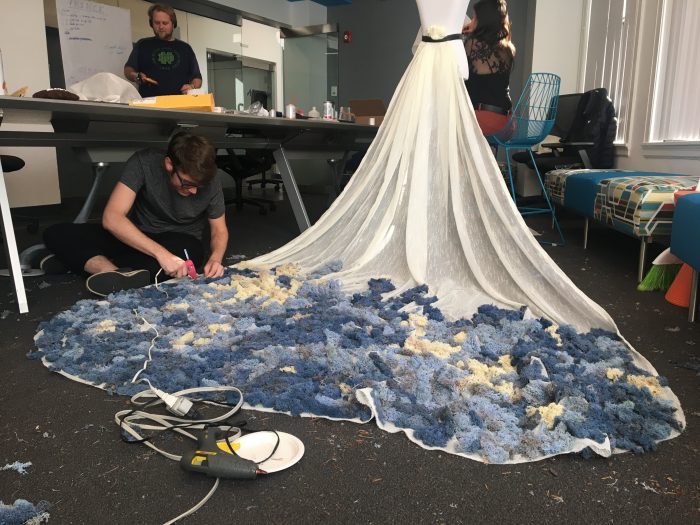 After countless sewing and fitting sessions, the outfits were complete. As a result, two beautiful looks were created (and each outfit weighing over an impressive 15 pounds!). The Cindy outfit even featured a modern-day version of Cinderella's slipper—a totally wearable heeled shoe covered in broken glass tiles.
At the event, the runway team had an amazing time showing off their hard work. From research to envisioning, construction and the runway, NELSON is proud of the Boston teammates for taking their creativity outside of the office in support of the community. We look forward to next year's show!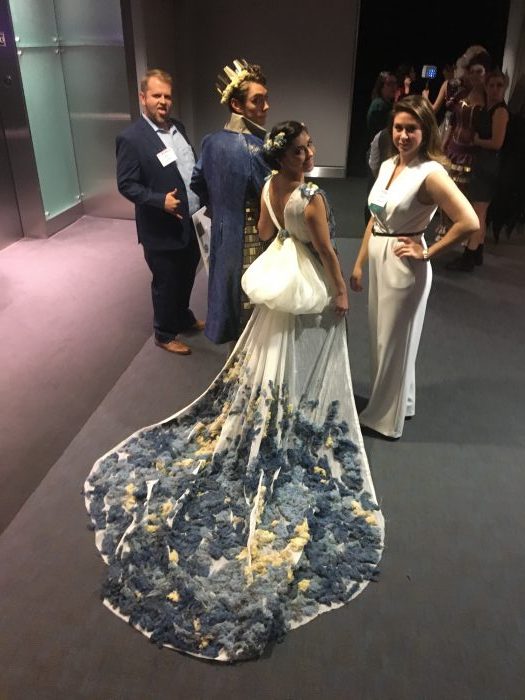 SPECIAL THANKS GO TO EVERYONE INVOLVED WITH THIS SPECIAL NIGHT!
Models:
Yolanda Sheehan
Mike Lynch
Make-up:
Nicole Done-Pimental
Hair:
Katrina Eliadis
Shoes:
Brian Duffley
Sketch:
Yolanda Sheehan
Construction Contributions:
Dan O'Shea
Yolanda Sheehan
Oriana Merlo
Mike Lynch
Christina Gedick
Paul Koch
Lisa Nisbet