Diversity at NELSON: Celebrating Asian American & Pacific Island Heritage Month with Food
By: NELSON Worldwide
What better way to celebrate Asian American Pacific Islander Heritage Month than with food! Native cuisine is one the of many ways we express our cultures and share it with others. Although we can't bring the food to life, we are living and learning vicariously through our Teammates. This month features stories from Keo Ballerstein, Carey Ann Ragusa, and Joy Wang as they show us what they love about Lao, Filipino, and Chinese cuisine.
Keo Ballerstein – Lao New Year Celebration!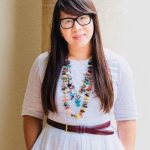 This year, the Lao New Year celebration began on Thursday, April 14th and ended on Saturday, April 16th. This festive occasion is a 3-day national holiday in Laos that is filled with a variety of Lao traditions and customs.
Growing-up in the United States from a very young age, I recall the epic celebrations. My father, at the time, was the resident of the Lao American Association of Florida. It was important for him to bring the Lao community together, to not only celebrate, but to educate first-generation Lao Americans about the history and culturally significant traditions of Laos. Ethnic folk dances, folk stories, blessing ceremonies, community soccer matches, and the ultimate Kataw matches were some of the activities that brought the community together during the weekend-long celebration.
And then, there was the food…
Food from Laos has many influences within Southeast Asia. Thailand, Vietnam, and Cambodia play a part in some of the picy and savory dishes. But, the staple and comfort food in the Lao culture is sticky rice (kow niew).
The memory of waking-up to its sweet aroma engulfing the house when my mother prepared it before delicately frying it with eggs, brings me joy. I was the kid who joyfully walked to school with a fried kow niew patty in hand. "Breakfast for champions," I was told.
While I may have a more sophisticated palate now and enjoy dishes from other cultures, I can honestly say that no cuisine leaves me more complete than kow niew with grilled chicken (ping gai), chicken salad (larb gai), green papaya salad (tham mak hoong), and spicy tomato sauce (jeow mak len).
I look forward to celebrating with family and friends again this year. While it may not be in a grand scale like in yearspast, passing down the Lao traditions to my daughter is a wonderful way to embrace a promising future.
Happy Lao New Year! (Sabaidee Pi Mai!)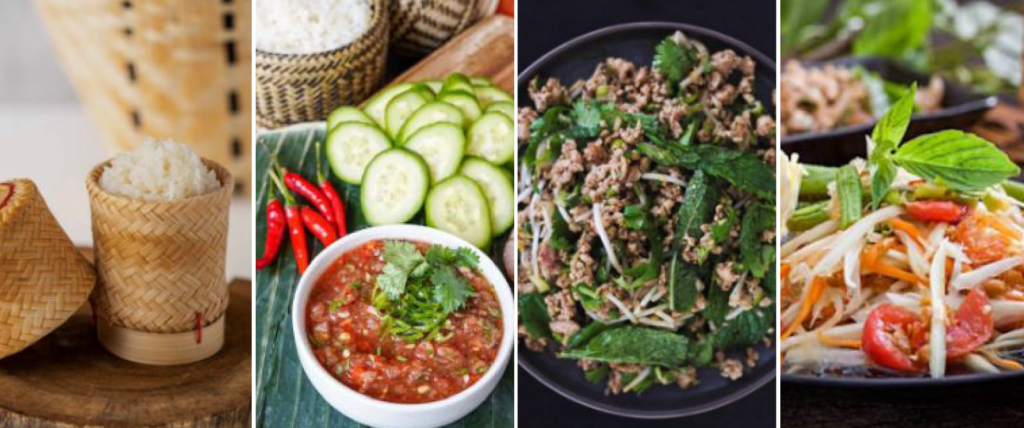 Carey Ann Ragusa – A Filipino Feast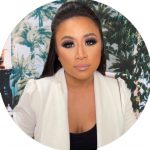 I'm Filipino and the best part of being Filipino is the food and the family gatherings we have. My dad used to own a restaurant and used to cook so many different types of Filipino food and the family would come to the restaurant just to be together, sing Karaoke, and celebrate the little things. It would never just be the immediate family. There would always be the extended family with the cousins, the Titos and Titas, the Lola and Lolo and always plenty of food. We would have lumpia, pancit, halo halo, sisig, kare kare and crispy pata, and so many other things that are too much to name.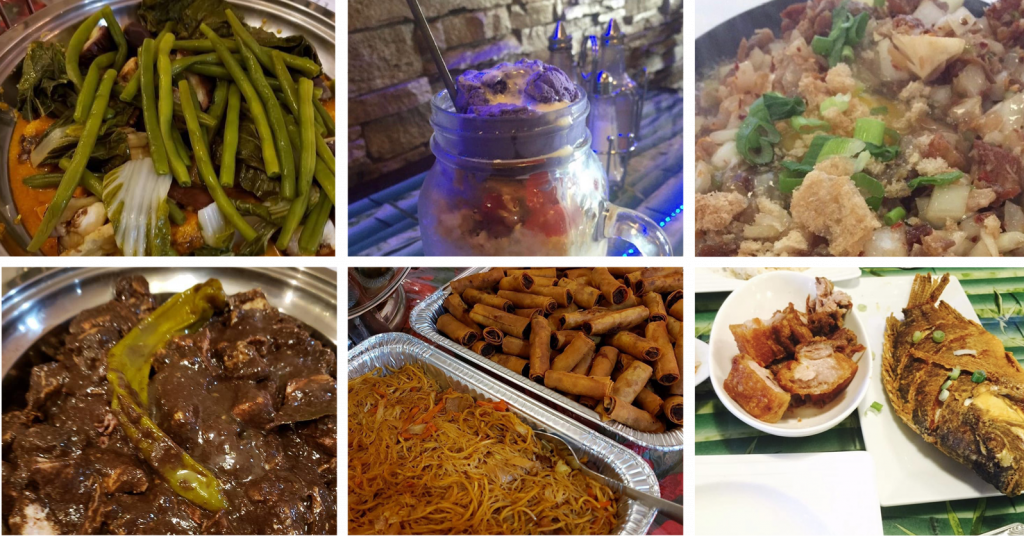 Joy Wang – Boiled & Pan Fried Dumplings (Jiǎozi & Guotie) with homemade chili!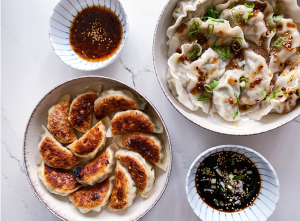 One of the best things about dumplings is the history of family all wrapped up in one. Growing up, it was almost a right of passage to be able to help parents, grandparents, aunts, and uncles in preparing for something so simple but so steeped in traditions. Learning about the individual ingredients that make up the filling, observing, trying out the tried-and-true methods passed down from generations prior, and understanding that there isn't just one way to make a dumpling, because every family has their own variations was the best. It's a time best associated with everyone coming together no matter age, gender, or race to try their hand at folding, pleating, or crimping a delicious little bundle into all shapes and sizes. To be able to pass on these types of traditions, introducing new ones to others, and setting down work and the busyness of daily life to enjoy a meal that's always brought family style is something I always look forward to. Feeding others is also a plus as well 😊
Creative Fuel
Diversity & Inclusion