A Way To Infinity | Yayoi Kusama
By: Creative Fuel
Yayoi Kusama's Infinity Mirrors exhibit made its last touring stop in Atlanta at the High Museum of Art. The day tickets were released to the general public, people across the city waited in queues of up to 14,000 people in an attempt to grab a ticket to the acclaimed show.
Japanese artist, Yayoi Kusama, is a self-described "obsessional artist," known for her extensive use of polka dots and infinity installations. Starting at the age of ten, Kusama painted dot and net motifs as a way of dealing with mental health issues she faced. Inspired by abstract impressionism, she moved to New York City in 1958 and joined the avant-garde art scene of the 1960s that sparked the pop-art movement.
When entering the exhibit, you are greeted with some of Kusama's oldest and newest work including sculptures, paintings, and more. Her sculpture, Life (Repetitive Vision), which highlights her signature polka dot motif, was featured prominently in the exhibit.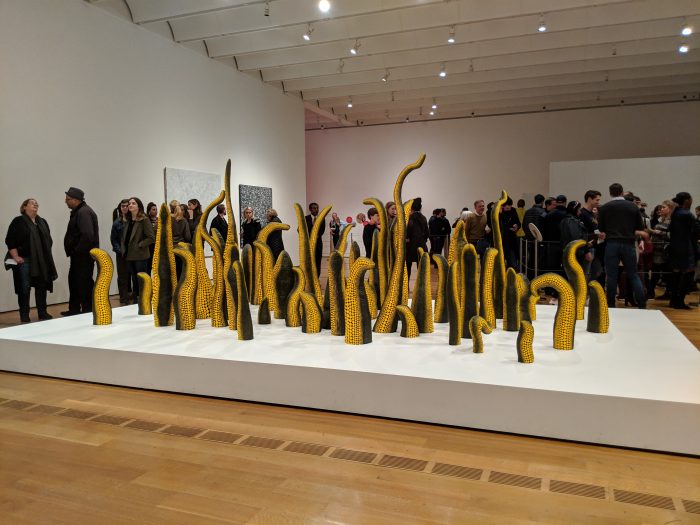 As you move through the exhibit, you are prompted to enter smaller "Infinity" rooms. Each room of the exhibit creates a unique and interesting play of space, from vast fields of polka dots to the inside of a lava lamp, to weightless floating expanses of glowing lanterns. Most fascinating is how compact and mysterious the Infinity rooms are. From the outside you see a very minimal white 10×12 box, offering no indication of what's inside. There was one exception to this, however, Dots Obsession – Love Transformed into Dots, is a large open space showcasing giant pink dotted spheres from floor to ceiling. Within this space, the actual Infinity room is built into one of the pink spheres.
The final room, called Obliteration Room, takes guests from viewer, to participant. Upon entering, you receive a sticker sheet of dots and are directed to place them anywhere you choose throughout the room. It's fun to see what was once a sterile room completely filled with dots of other participants, all looking for interesting places to leave their mark. To play off the name, the stickers really had the desired effect and in some cases completely obliterated the forms of objects placed around the room, like an optical illusion, only showing up as you moved around (or almost stumble on them).
Each room features plenty of Instagram-able moments and it was exciting to enter, camera ready, and experience the Infinite.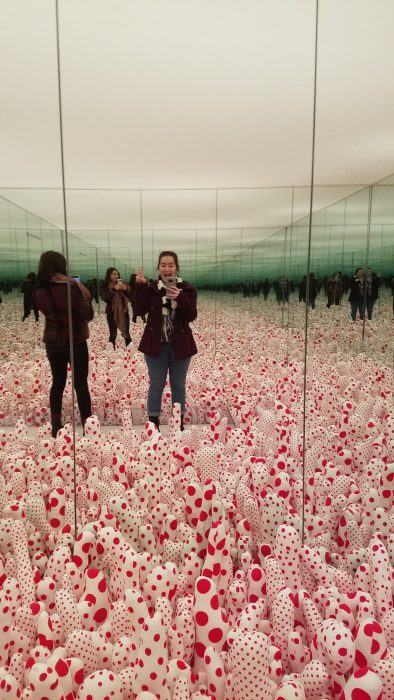 As graphic designers, we found it interesting how Kusama has made a such a strong visual identity for herself. Transitioning from pop art to pop culture, her unique style has created a personal brand. Kusama's visual identity was represented all over the museum, making a statement of her creative presence. The entrance and front of the museum were covered with giant bright red dots and the gift shop was also full of dotted merchandise. In addition, fun and quirky polka dot signage helped guide us through the exhibit and or learn more about each individual art piece.
All in all, Kusama's Infinity Mirrors was a really fun and exciting exhibit, we're so glad it made its way down to Atlanta!