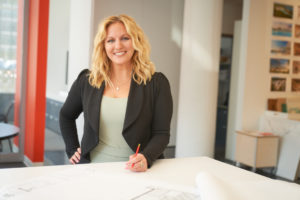 PHILADELPHIA – February 1, 2023 — Award-winning architecture, design, and strategy firm NELSON Worldwide is excited to announce the advancement of Courtney Reid to Design Leader, Retail. In her new role, Courtney will oversee and manage projects for the Food and Beverage team while collaborating with the entire Retail practice.
"Courtney is an attentive leader who motivates her team and pushes them to grow," says Chairman and Chief Executive Officer at NELSON Worldwide, John "Ozzie" Nelson Jr. "Her ability to focus on intricate project details allows her team to make high-end design concepts a reality, and her collaborative attitude and consistent support continually elevates our practice."
Courtney is a patient teacher and teammate who is passionate about efficiency and hard work. As Design Leader, Retail, she will promote design strategy and innovation reflective of the studio's goals and overall mission. Courtney's involvement and quality control over all project phases will bridge the gap between the creative and project management teams, while her leadership and clear guidance will increase professional development and overall team performance.
"I look forward to expanding our Food and Beverage team so that we can become more collaborative within the Retail practice and serve as an expert source within Food and Beverage," notes Courtney. "As I advance in my role at NELSON, I look forward to pushing my skill sets and growing the team."
After earning her bachelor's degree in Architecture from Philadelphia University, Courtney began her architecture journey as a Project Designer, later elevating to Project Architect at Solutions Architecture Corp, PZS Architects, and Daroff Design. With over 13 years in the industry, Courtney's background has paved the way for her new position as Design Leader, Retail at NELSON Worldwide. She has experience across all project phases, from design conception to construction and contract management. Her creative approach has allowed her to provide innovative solutions to design problems and develop aesthetically pleasing projects. Major upcoming projects for Courtney and her team include dining facilities within the United Airways terminal at Newark Airport, as well as the development of new restaurants in conjunction with LaGuardia Airport's new F Concourse.
###
About NELSON Worldwide
NELSON Worldwide is an award-winning firm, boldly transforming all dimensions of the human experience through architecture, interior design, graphic design, and brand strategy. With more than 700 teammates across 20 offices, the firm's collective network provides strategic and creative solutions that positively impact where people work, serve, play, and thrive. The team combines industry knowledge, service expertise, and geographic reach to deliver projects across the country and around the world. Client partnerships across the NELSON network include Hilton, Macy's, Comcast, Simon Property Group, Prologis, Yum! Brands, Boston Consulting Group, T-Mobile, Emory Healthcare, SAP Fieldglass, Unibail-Rodamco-Westfield, Kroger, Hyatt, Bayer, Target, and many more.