2020 Return to work survey
Evolving Workforce Expectations
About the study
As a company focused on Boldly Transforming the Human Experience, we view challenges and opportunities through a deeply human and personal lens. For us, it was about going beyond just the physical shifts. We wanted to clarify how we, as individuals, have responded to the sudden change in our work styles and work environments.
Determine the impact COVID has had on work productivity
Uncover insights on a human level that will drive return to office initiatives
Provide support and context for decision-makers for workplace re-entry
Reveal the future role the office, both culturally and physically
Key Insights
Below is a sample of our survey findings. For full results and a custom analysis of your workforce contact us.
KEY INSIGHT #1
Purposeful and visible changes to increase safety measures in the office are top of mind to assure the workforce that re-entry is safe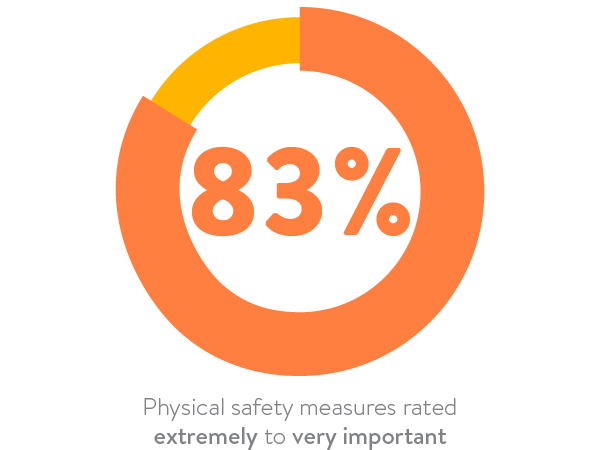 KEY INSIGHT #2
There is a strong tension between wanting to return to the office and anxiety over health and safety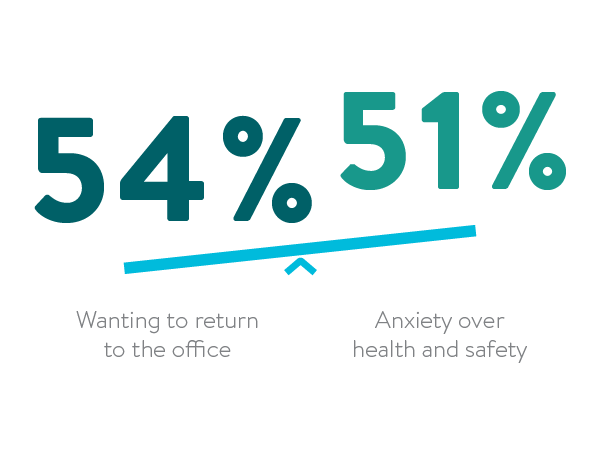 KEY INSIGHT #3
People are craving clear, consistent, and reassuring communication to reduce anxiety around the return to the office environment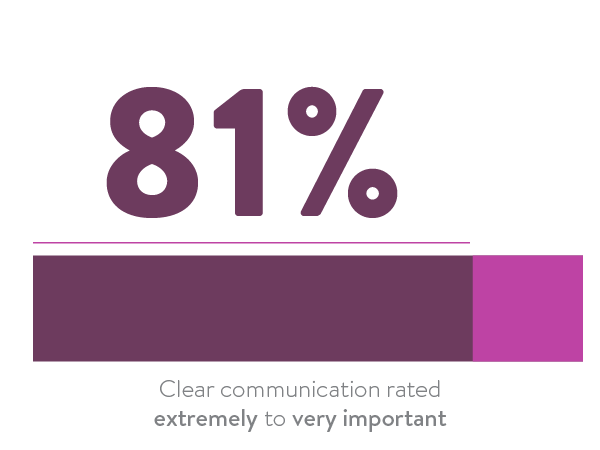 Webinar Series
#EvolvingWorkforce2020
Webinar
The Tension Tightrope
How to balance employee expectations and safety upon re-entry
Our Workforce Webinar Series kicked off on August 26 with The Tension Tightrope. NELSON Workplace Practice Leader Barbara Riekse is joined by ThinkLab President Amanda Schneider and Ferrara Senior Workplace Experience Leader Emma Waterman to discuss challenges and opportunities of workplace re-entry post COVID-19.
Webinar
The Generation Gap
An in-depth look at differences in employee expectations
Our Workforce Webinar Series continued on September 16 with The Generation Gap. NELSON's Haril Pandya was joined by GenGuru Founder and author David Stillman, and ThinkLab President Amanda Schneider to explore the different expectations each generation in the workplace will have when returning to the office.
Webinar
The Role of the Office
How the physical office is evolving to meet workforce needs
In the third in our Workforce Webinar Series, teammates Deanne Erpelding and David Wagner were joined by guests Tony Fedel of The Clorox Company and Amanda Schneider of ThinkLab. This discussion was guided by three themes—starting with overarching real estate strategy and ending with the dynamic office design—that will redefine the role of the office of today and the future. Watch now.
Webinar
Flexible Futures
What to Expect from the Workplace in 2021 and Beyond
In the final presentation of our Workforce Webinar Series, NELSON's Vicki Eickelberger was joined by Design Futurist AJ Paron to take a future-focused approach to what's next for the workplace.
Key Takeaways
As people return to a focus on their basic needs, they crave reassurance and confidence from companies that safety and security are a priority
Moving forward, personal autonomy and flexibility are going to be non-negotiable for how, when, and where teams accomplish their work
The office environment remains important, but plays a different role in the work-life balance equation than it has historically
How does this compare to your workforce?
Working with you, to get you back to work
SPARC: Space Planning & Assessment in Response to COVID
As we collectively transition into the next phase of COVID-19 containment, we're here to guide you through the process of assessing your space based on your company's approach to returning to your workplace. Our tiered service packs allow you to quickly assess your needs and identify what's right for you.
FEATURED THOUGHT
COVID-19 Impact Assessment: Outlook & Implications
NELSON Worldwide has conducted a comprehensive evaluation of COVID-19's impact across industries to arm our clients and partners with short- and long-term solutions to best respond, adapt, and innovate in the wake of COVID-19. This Assessment identifies macro trends and implications that will drive shifts in business models, brand development, and the design of built environments — and ultimately, shape the human experience.
Download the assessment
NELSON's workplace practice leader Barbara Riekse talks with ThinkLab about our Evolving Workforce Expectations study and what it will take to make our workforce feel comfortable in the future.