Meet Aaron Nacey, Senior Project Manager, Civic, Community, Justice, & Education. Aaron will cross-collaborate with the client, design and contracting teams to successfully navigate project scopes, schedules, and budgets from ideation to implementation.
---

Q: What design trend has gone away that you wish would get a comeback?
Controversial opinion, but hear me out. Brutalist architecture. Not the 50s variety though, a modern take that adorns the brutalist approach with a solarpunk narrative. Think branches and foliage on a tree trunk, or a stream through a mountain valley.
Q: Where did you grow up?
I grew up 30 minutes from a town of 50,000 in Western Kentucky. My town was surrounded by lakes and farming during a time when walking or biking miles to a friends house was of no concern.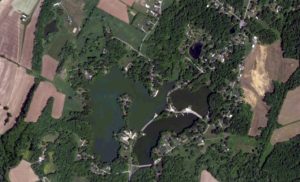 Q: What is a quote or mantra you live by?
"Out beyond the ideas of wrongdoing and rightdoing, there is a field. I'll meet you there." (From Rumi's 'A Great Wagon' poem)
It's a reflection that we're all in this together, regardless of our histories, preferences, or environment. I wear a bracelet branded with 'Stand Together' as a constant reminder.

Q: What is a song or album that helps pump you up or get excited?
Can I answer with a band? Foo Fighters, 100%; there's a song for every mood! If I need loud and proud, soft and sullen, or motivation to power through, they deliver. Dave Grohl is a national treasure with an inspiring life journey. RIP Taylor and Kurt, you're loved and missed.
"NELSON's culture is rooted in diversity and inclusion, and that alone attracts, retains, and grows the bold-thinking talent required for lasting success." – Aaron Nacey