Our report for the third quarter of 2019 explores the blurred lines of today's design and business trends as we move on from Q1 and Q2. From workplace to retail and all the environments in between, check out the trends we've seen emerge in Q3 and will continue to keep an eye on as they evolve through out the rest of the year.
Brand & Business Trends:
Consumer Connection
A new wave of consumer craving has arrived: ultimate connection. Today, it takes more than a physical space to bring people together as consumers and travelers are looking for opportunities to connect with others. As brands catch on, we're seeing business strategies shift to build a strong community base for consumers alike or for those looking to join something new. For example, member-only parent clubs like Wonder in New York City target modern parents that are looking for a family-friendly space to bond with their loved ones. Blue World Voyages, a specialty cruise line, has created an intense fitness journey packed with exercise and highly health-focused activities and classes.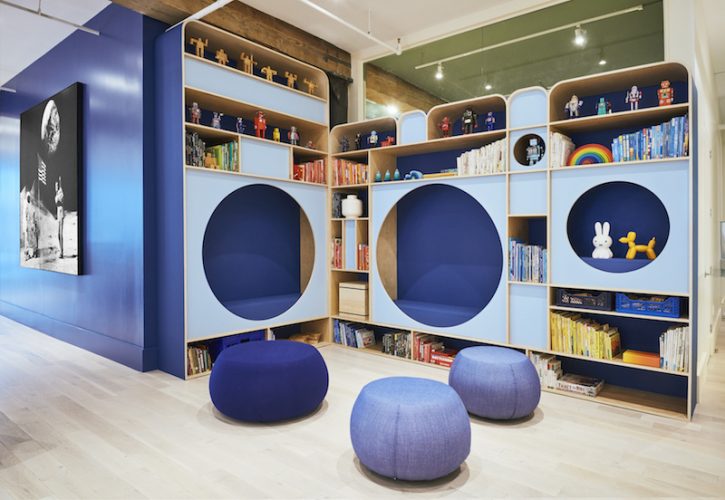 More examples:
Preparing for the Next Generation
As technology launches us to the future faster than we can keep up, brands and employers are quickly changing their environments and business models for the next generation. This quarter we've brands like Dunkin and Starbucks continue to roll out "next-gen" stores around the work equipped with digital kiosks and innovative coffee tap experiences. Within the realm of workplace, insurance company Willis Tower Watson recently designed an office for the age of agile employees with lockers instead of assigned desks. Volvo also launched CampX, an educational lab for the brand's future.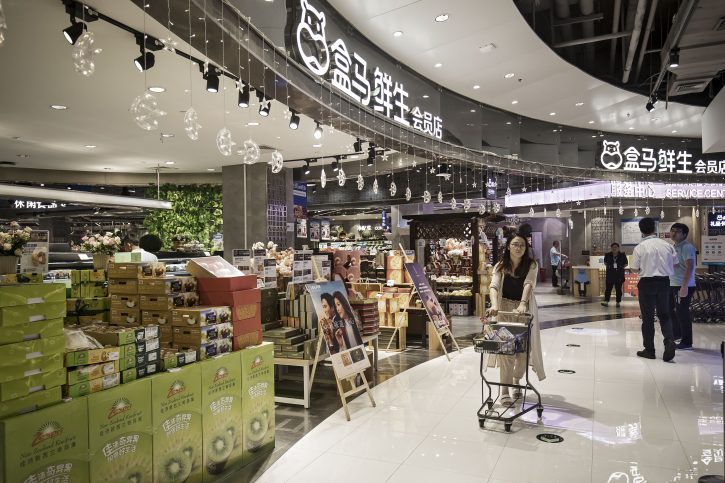 More examples:
Embracing Planet Positivity
As people become more aware of environmental issues, they become more conscious of their decisions in every aspect of their lives. From retail to workplace to travel, people are gravitating toward brands that make being sustainable EASY.
Fast food powerhouse Burger King is stepping out, taking a stand on environmental issues with their new UK-based campaign that promises to transform unwanted kids meal toys from ANY fast-food chain into useful, reusable household items. Following suit on the sustainability trend, commercial furniture provider Rype has capitalized on the eco-trend by refurbishing used office furniture and remanufacturing at half the price. KFC Moscow headquarters are designed with a natural color palette and recycled materials to inspire employees to keep sustainability in mind. Sooner than later, companies thinking out of the box to become more planet positive will stand out.
More examples:
Over the Top Experiential
In today's "newness" culture, consumers are always on the hunt for the next best thing and brands are competing to develop the most innovative ideas possible. According to The Global Association for the Attractions Industry, visitors spent $44.8 billion on theme park experiences in 2018, and brands from all ends of the spectrum are beginning to catch on to the experiential buzz around theme parks. Although the age-old theme park is far from forward-thinking, many brands are mimicking some of the adventure-driven, over-the-top experiences found at theme parks. Today we're seeing brands and travel experiences like Meccaland and Carnival Cruise tap into theme park ideas. Even more traditional sectors are taking inspiration from this trend to attract more people. Rochester Cathedral located in the UK constructed a nine-hole crazy golf course inside their 900-year-old medieval church to start conversations around "spiritual bridge-building."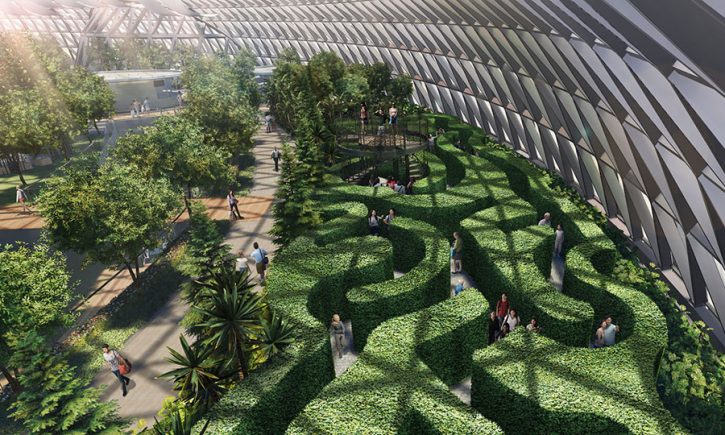 More examples:
Design Trends
Bleisure
Blei•sure (noun): Blurring the lines of business & leisure. These are non-conventional spaces with blended a twist of hospitality. They are engaging environments that allow guests to connect with a brand or company through memorable touchpoints like localization, branding, and socialization. In Philadelphia, the newly designed Comcast Tower blends offices with a Four Seasons Hotel and public-access lobby that features an immersive cinema dome that screens a brief film for visitors. Loong Swim Club named the "world's most beautiful swim club" transformed its swim experience into a visual masterpiece offering elevated hospitality services.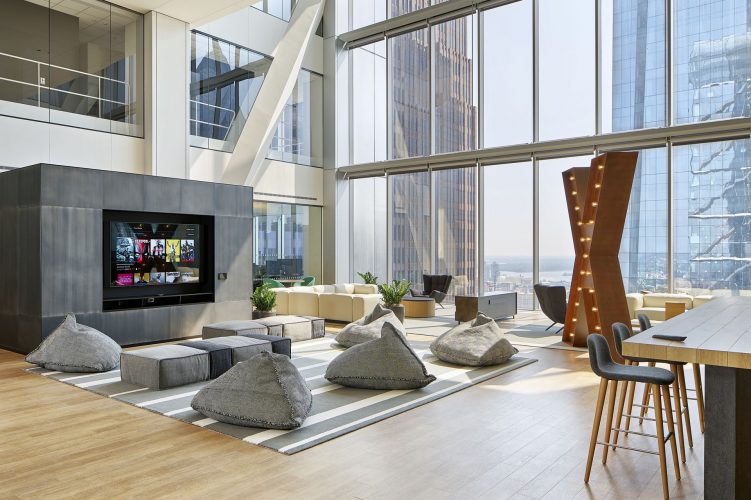 More examples:
Luxury Overload
To create a compelling brand environment today, it's about thinking outside the box and creating an experience full of rich and dramatic moments. Creating a space that is both memorable and unique is key and dwindling are the days that simple, stark aesthetics make a statement. Whether it's a bold wall covering, artistic installation, neon lights, or unusual combinations, whenever fit, retail and food brands must design to nudge curiosity and elevate the senses.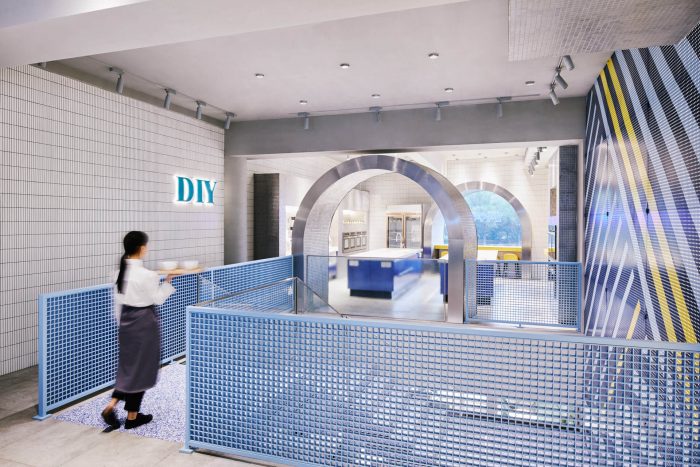 Examples:
Comfort & Wellbeing
As workers depart from desks and consumers look for opportunities for relaxation in our fast-paced world, it's important to incorporate comfort and wellbeing in all aspects of design. As environments shift, comfort-focused products and design mimic natural elements, provide flexibility, and offer more privacy. In the workplace, seating and upholstery are becoming more plush, rounded, and retro giving environments an "at home" feeling. BuzzieBracks are curtained, modular unit systems designed to help people "work apart together." In the retail space, Green Option, a wellness driven food court uses soft seating and tonal greens to detach customers from urban bustle.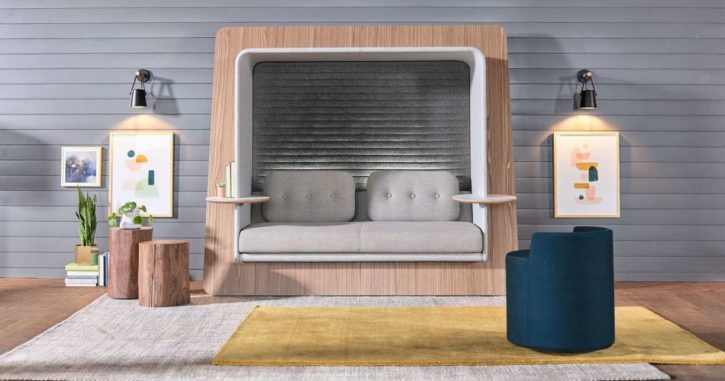 Examples:
More Must-See Concepts