2019 was a tumultuous year, full of political and social uncertainty around the world. We take some time to look back on the biggest Strategy, Design, and Architecture stories of the year, exploring the key themes that captured our attention and uncovering potential trends and opportunities to carry us into the 2020s.
In Part III of our three-part 2019 Year In Review series, we're focusing on all things office and mixed-use developments. From brand-focused workspaces to the opening of some of the most notable mixed-use developments, read below for concepts from 2019 worth remembering.
Office/Work
Building on the obvious influence of WeWork and other co-working companies, offices didn't look like offices last year, they looked more like…home, whatever that may be. One of the most common phrases we saw in office design summaries was "designed to not feel like an office at all," with designers taking cues from residential and hospitality designers. From a design perspective, this involved brand taking cues from the co-working giants of the work and incorporating flexible seating and adaptable workspaces, including (in a few cases) offices designed to accommodate our furry friends and late-night workflows.
As space for new offices expands and companies look for unique locations that don't feel like a cubicle farm, adaptive reuse saw a major emergence. Brands built amazing new HQs and satellite offices in historic buildings modifying them to meet the work styles of their employees while respecting the building itself. Expensify built their new office in a 100-year old bank – a (maybe not so) subtle message about their role within the world. Meanwhile, Vital Proteins built an airy new office in a former chicken processing plant, completely subverting the building's past while still respecting the architecture of the space.
Concepts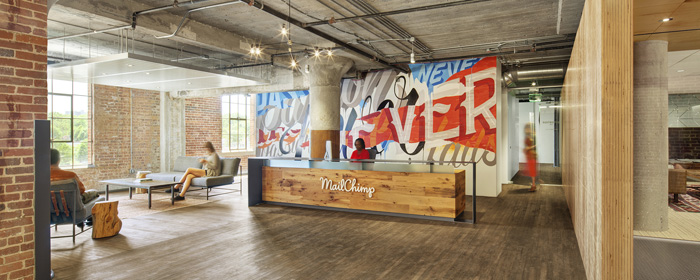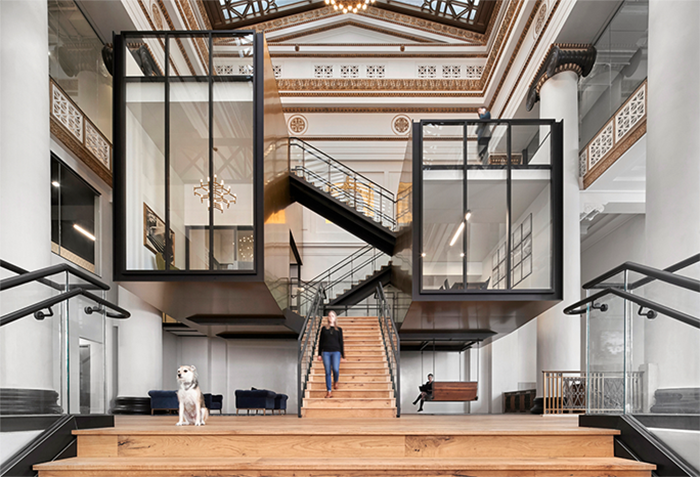 Mixed-Use Developments
Arguably, the most talked-about development of 2019 was the (somewhat controversial) new Hudson Yards – we even offered up our on it a few months ago – but other notable mixed-use developments include popular experiential pop-ups The Current and The Box Shops. All three concepts exemplified the shift we've seen over the past few years away from malls and toward unique, targeted experiences that allow people to discover at their own pace.
One thing we can't wait to see is the potentially revolutionary Google Mountain View neighborhood currently under construction, it seems movement is finally being made on the project after final designs were approved nearly 3 years ago. While not a traditional Mixed-Use development in that it's centered around an office rather than retail, Google has major plans to create not only an office campus but also a "walkable, livable neighborhood" with parking underneath greenspaces – a trend which could see an upswing in the future as current developments try to reconcile their footprint with their foot traffic.
Concepts