Today, people move fluidly from experience to experience resulting in everchanging environments that are shaped by the lifestyles and needs of people and communities everywhere. From coast to coast, our teammates are at the forefront of transforming environments and are on the pulse of the trends that define them. In our latest Regional Round-Up series, we'll be connecting you with leaders new and familiar in NELSON offices across the region to explore and highlight regional architecture and design trends across all industries.
This week, we're introducing you to our Southeast regional teammates:
---
Asset Strategy
with Mary Kathryn German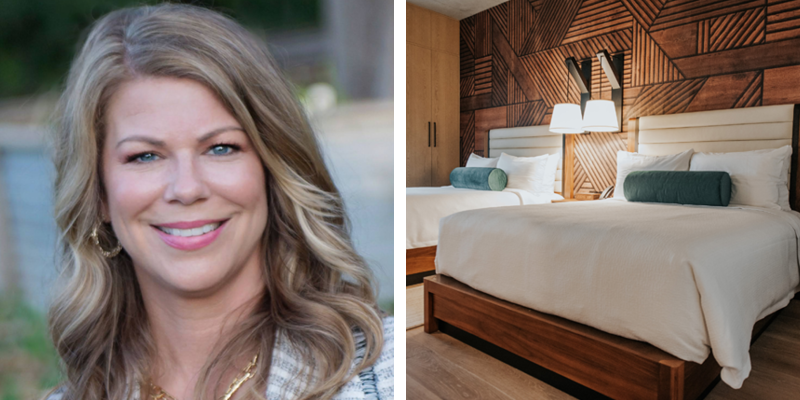 TRENDS:
A major trend I am seeing today is a trend that has been evolving for a few years. At every turn, the blurring lines between hospitality and workplace/retail/mixed-use are growing and becoming more obvious. Within these hospitality-driven experiences, we are seeing more "wow-factor" elements and amenities being implemented – food halls, state-of-the-art fitness centers, tech centers, etc.
CHALLENGES:
A challenge I am seeing is brands and organizations trying to define what flexibility means to them. A question many are asking is how flexible do we make our environments? I am curious as to how interactive a space can be without it being disruptive. I often question does flexibility allow the person to be more efficient or to simply enjoy a space even more? Additionally, the buzzword of collaboration can be hard to define as everyone collaborates. Now more than ever we need to be active listeners and observers to truly understand how people want to interact with one another as well as with the physical space.
WHAT'S NEW FROM NELSON:
Located in West Midtown Atlanta, our hospitality team recently designed and developed the Bellyard, a new hotel concept that features 161 inviting, yet contemporary suites and guest rooms. The boutique hotel's design immerses guests in the rich history of the surrounding neighborhood– nodding to the stockyards and railroads with thoughtful touches curated by local artisans and designers, including warm, white oak wood flooring contrasting against dark wood accents, hand-crafted custom suite tables, woven rugs, and natural, industrial-style walls and ceilings.
Mary Kathryn brings 20+ years of knowledge about the Atlanta design market and commercial furniture. She enjoys helping brands elevate their experience of work by delivering high-performing workplaces and has a proven track record in cultivating long-lasting relationships.
Workplace
with Chen Hui Spicer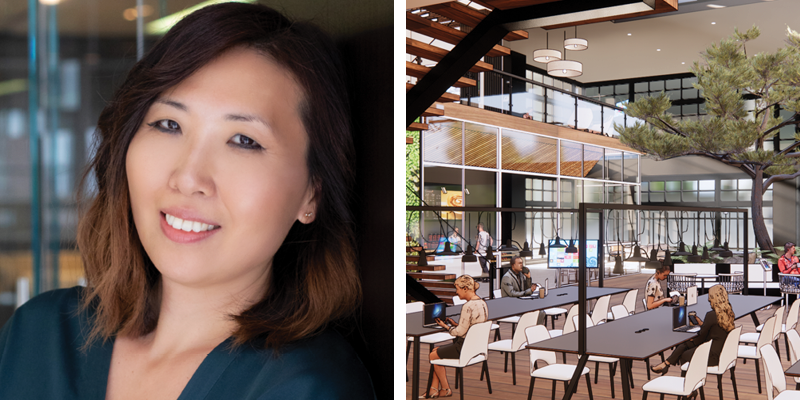 TRENDS:
The trends we are seeing in workplace design surround the return to work. The buzz right now is all about "hybrid" and we're seeing many companies and organizations adopt this model. I believe that once organizations can fully experience it will need to be refined again and again. For now, it's an evolving concept.
CHALLENGES:
Learning and discovering the strategy on the "return of the workplace" is the biggest challenge now. This is not a one-size-fits-all process and employers must carefully balance the situation to not cause change fatigue. It really should be a slow transition versus a light switch moment. The next challenge is measuring employee productivity outside of the office and beyond the traditional 8 am-5 pm time window.
WHAT'S NEW FROM NELSON:
Many of our current projects focus on "purpose" and adopting human-centric design strategies that offer retreat moments and fuel creativity and collaboration. For our Global clients, we are really focused on creating strong, valuable spaces that enhance choice, wellbeing, and offer a sense of hospitality. Digital amenities and technology are huge to allow all teammates to have the same presence whether they are at home or in the office. NELSON recently unveiled a "social clubs" concept where we envisioned the workplace taking on the role of the social glue for company employees, offering special amenities like coffee/wine bars, fitness areas, and partnerships with local clubs and social groups.
Chen Hui is a skilled designer with an eye for detail, a wealth of international experience, and a knack for developing client relationships. Bringing 19 years of experience, she delivers leading-edge projects and is a trusted advisor that brings our clients' vision to life.

Mixed-Use
with Tom Arsovski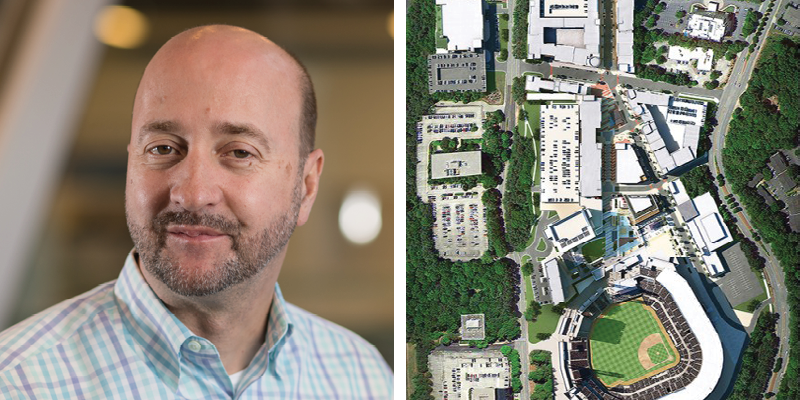 TRENDS:
The mixed-use densification of urban and suburban neighborhoods continues a trend that began well before COVID -19 and is thriving in the post-pandemic era. The basic human need for connection is a driver, especially after many months of isolation and separation. While some may resist the more crowded places, others are drawn to those special places known as the "third place" – A social environment that is separate and distinct from home and work. Places such as retail high streets with restaurant districts, food halls, street cafes, live music bars as well as sports venues of all sorts are experiencing a resurgence in popularity as "third places".
CHALLENGES:
A key challenge for mixed-use environments today involves developing strategies that provide inspiring experiences to engage and delight the user. While our clients may be private development entities, our users are the people who directly contribute to the success of the new community.
WHAT'S NEW FROM NELSON:
A NELSON project that I really admire is The Battery Atlanta. The destination is a unique blend of office, residential, retail, and entertainment spaces alongside the Atlanta Braves stadium, Truist Park. It is an ongoing multi-building project where NELSON has been able to design an environment that provides the ultimate live, work, and play experience.

Tom is a committed architect and urbanist who has lived in cities all his life (Montreal, Toronto, Chicago, and soon Atlanta). He focuses on leading and driving success in the mixed-use practice for our Southeast region. His 30+ years of leadership, design, and construction expertise, allows our team to continue to build on its broad base of built experience and thought leadership in continuing to craft unique and enduring urban and suburban mixed-use environments.
Workplace
with Elizabeth Levine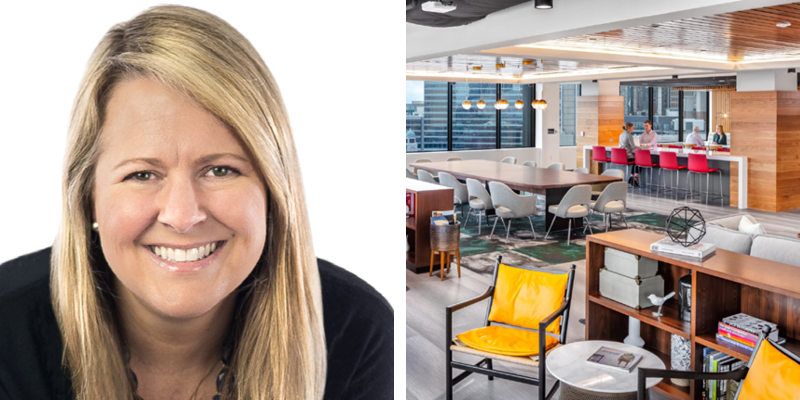 TRENDS:
As clients are returning (or not returning) to the office we are seeing a shift in thinking about the office and its purpose. The office is no longer the main arena where work gets done. We are seeing a focus on hybrid solutions including larger more flexible collaborative spaces as well as a wider variety of choice spaces to allow for needed alternative work settings.
CHALLENGES:
With the office becoming a destination for collaborative work, there is also a greater and ongoing need to continue to be able to collaborate with remote teammates and clients in the office setting. Our clients are looking for creative ways to make people feel a part of the greater team in or out of the office space while maximizing their sense of connection, community, and brand identity. An inclusive, inspiring, and immersive culture-rich experience that brings people together is key.
WHAT'S NEW FROM NELSON:
Currently, our Atlanta workplace team is working on our next project for Boston Consulting Group. The design allows for individual comfort and personalization and special attention was paid to advanced ergonomics. The space is also technologically advanced while being intuitive with easily accessed tools to connect and share.
Elizabeth brings over 28 years of experience to our team and works closely with our clients to establish strategic design direction for projects. Bringing creative excellence to the design process, her extensive award-winning design experience, clear communication skills, and attention to detail result in projects that exceed expectations.
Asset Strategy
Insight
Mixed-Use
Workplace